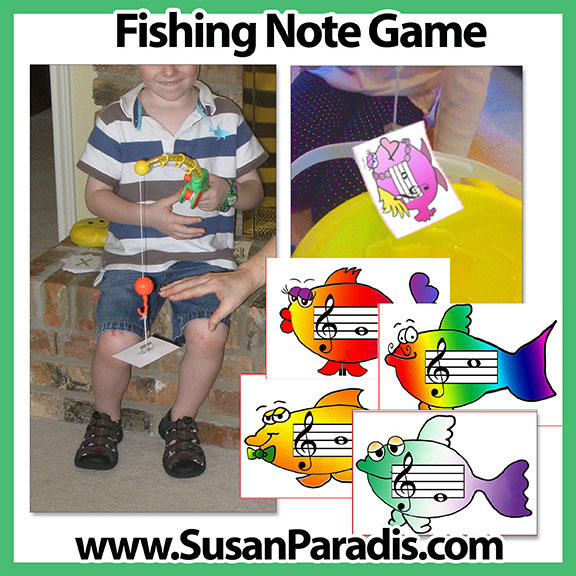 These are the cards that go to a flash card fishing game my students like to play. As you can tell, I drew these fish myself on the computer, but I had a lot of fun drawing them. In my mind, I gave each fish a name and a personality. By the time I got to the last page I had run out of ideas!
There are three pages for you to print. I laminated mine and glued a paper clip to the back with my hot glue gun. I really wish I had used a metal washer on the back because that looks a lot better. But paper clips are inexpensive,  and most of us have them on hand.
For a long time our fishing pole was a dowel with and string and a magnet on the end. A few weeks ago I found a cute toy fishing pole at a local dollar store. I really like it because students can "reel" the fish cards in. This is a game for young students, so they like to reel in the fish!
There are so many different variations  you can play with this game, depending on the age of your student and how much time you have. I usually put the cards face down on the floor and have the student reel in one at a time. I give the student a time limit to catch and identify the note. Sometimes I keep a record for the week to see who can identify the most cards in a given time.  If students are just learning the notes, they do better if they are not timed.
If you have a great idea for a fun game with these cards, please pass it along to all our readers. Many of you are so creative with ideas for games! I would like to thank Cecilly for giving me the idea to make these cards.
Please follow and like us: