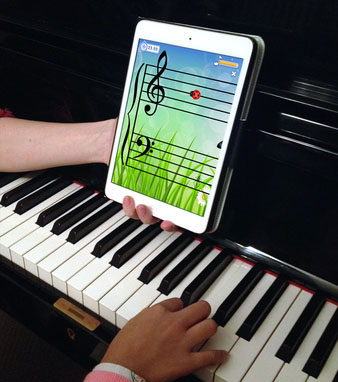 Lessons are starting back for many of us, and if you use a mobile device in your lessons or if you want to help your child at home, this is a great time to try out Note Rush. This app is on the Apple App Store and Google Play so you can use it with an iPhone, iPad, and many Android devices.
The developer of Note Rush made it to help students learn notes because his wife is a piano teacher. Students see the note on the staff and try to quickly play the note on the piano. The app listens to what is played  and can tell if the note is played correctly. I discovered a long time ago that students need to know not only the names of the notes, but where they are on the piano. What good does it do to know the name of the note if they can't find it on their instrument? Note Rush is a great way to review notes for the One Minute Club.
You can use any instrument with this app because it detects the sound waves  of the instrument and can tell if the student plays the correct note.  You do not use cables or plugs. Just set the device on the music rack or hold it so the student can see it. Flash cards pop up on the screen and the students plays them. Note Rush will let the student know if the note is played incorrectly. It works with digital as well as acoustic instruments.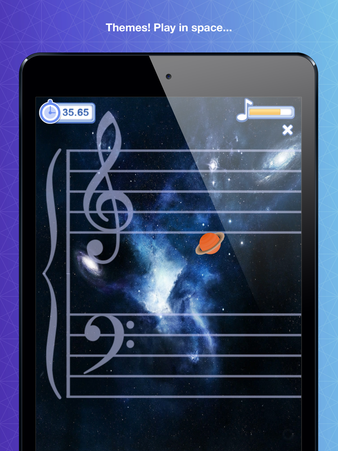 When you open Note Rush, students have three different icons they can use for notes: soccer ball,  ladybug, or planet, with different backgrounds for each one. The teacher, student, or parent selects the appropriate level.  There are five levels to choose from:
Starter – the notes around middle C
Part Staff – bass C to treble C
Whole Staff – low F to high G
Just Ledgers – Ledger line notes
Grand Challenge – Low C to High C
In each of the above levels, you can select the notes to be either all treble, all bass, or both. That makes 15 different variations to choose from.
If you get frustrated with iPad apps that are not user-friendly, you will find Note Rush super simple to use and very fast to set up. With just a touch of your finger you easily change levels. There are no complicated menus to figure out.
My students were beta-testers for this app, so I have used it extensively with an iPad.  They enjoyed it and thought it was fun and helpful. It is very moderately priced for the work that was involved in making it. For my readers all over the globe, here is the price breakdown as of the time of this post:
AUD $5.99
USD $3.99
CAD $5.49
GBP £2.99
If you want to read more about it, visit the Note Rush website.
Please be aware that there are many Android devices and this app has not been tested on all of them.
[Disclosure: I was a beta-tester for Note Rush.  I received no compensation either as a tester or for this review. These are my personal opinions.]
Please follow and like us: