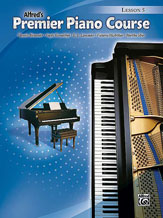 When you hear the words Alfred Method, if you think of the old Alfred Basic Piano Library, then you need to read my blog today about the newer Alfred piano method called Alfred's Premier Piano Course.  With music beautifully written by the wonderful composers Dennis Alexander and Martha Mier, this is a modern method for today's student.
  Alfred's Premier Piano Course is an intervallic method that uses landmark notes to teach reading but does not go so overboard on the landmarks that it drudgery for the student.  The word "position" is not used in the method so your students will not think their RH thumb plays only middle C. My student who started in this book never thought about positions,  but rather looked for the note with the correct finger. And this was not a strong student.
 Rhythm is taught through groups of rhythm patterns to help students feel the flow of the meter. In order to play musically, students must learn using these patterns, rather than thinking of individual note values. Those of us who learned the Kodaly method know that students need to feel an entire pattern rather than just learning how long to hold a note. Students will, however, learn to count in this method.
 Lesson, Performance, Theory, Assignment, and Christmas books, as well as flash cards, MIDI disks, Technique, and a unique At-Home Book are available at the early levels. Since this method is still being written, some of the extra books such as the Technique book are not available yet at all levels.
 Books with included CD's are available at a slightly higher price, so you can choose if you want your student to have the CD or you can keep a CD in your studio for use at the lessons.  The CD's have both a performance tempo and a practice tempo.
 Recently Alfred published level 5 of this method, which is the 7th level in the series, following 1A, 1B, 2A, 2B, 3, and 4. Level 6, the final level,  is still in production, and should be available in 2010.
 Level 5 has great music that is fun to play.  The pieces composed by Alexander and Mier sound like recital pieces and your students will love them. Out of the 20 pieces in this book, 8 are original classical pieces from the Baroque to Contemporary periods as well as some arrangements of classical orchestral music. One thing I really like in this book and think is unique to a method book is the music history. There are pages devoted to each classical period including the style,  a historical time line, and melodies of other famous tunes from the period. This should make teaching music history a lot easier.
Gayle Kowalchyk, a co-author of the method wrote the lyrics in this series. The music is co-composed by Alexander and Mier, so on a recital program list them both as the composers. E.L. Lancaster,  Victoria McArthur, and Gayle Kowalchyk worked on the pedagogical concepts. The illustrations are by Jimmy Holder and are a tasteful addition to the book. Timeless in style, they will not insult your older students and will not be dated in a few years.
 If you are looking for something new and haven't seen these books, check them out. I think you will be impressed.
Please follow and like us: