One Minute Club 2018
I've finished the 2018 One Minute Club cards. This is the time of year everyone starts to ask for them!
Sometimes, as teachers, parents, and students, we don't realize that it is not enough to be able to identify note names on a flash card. Pianists need to know exactly where on the piano keyboard the note is found. And we need to be able to find it quickly, so that when hands have to jump from one octave to another, we will know exactly where to go.
In the One Minute Club, the idea is to show students flash cards and they "say and play" the notes on the grand staff in one minute or less.
Our job as teachers is to prepare students to learn how to do this. We can't just present the cards one day and hope for the best. My students have been studying notes all year, and this is the culmination of all that work. And if we want students to be engaged, we have to find ways to make it accessible. For example, I start with just a few cards and, until they are successful, I don't add more. And you have to keep it light-hearted and fun.
I've found students need to be in about 5th grade to have the motor skills for this, but you certainly need to start gradually preparing them before that. And then, sometimes students have excellent motor sills and visual memory so they can be successful much younger. Sadly, this activity will not turn a poor sight-reader into an excellent sight-reader, but it will help.
For students who struggle to learn note names, it's better to wait until they are older, and then to gradually work up to this.
You are the teacher, so you get to decide how many and which cards the students should be able to say and play. There are no national standards, LOL!
Here is a link to a video I made to show you how it works.
There are 10 cards on the page. It is formatted for "business card" perforated cardstock, but you can also cut them out. I put them in plastic business card holders and attach them to their music bags. There is a slight over-lap (called "bleed") with the border to help with printing on business card stock, so if you cut them out yourself, be award of that. Draw a cutting line on the cards with a ruler, don't just cut out along the blue or the card will be too big.
You might notice the design is the same theme I used for the calendar at the beginning of the year. My students look forward to new art each year! [Edited to add challenge chart.] Here is a challenge chart I posted a few months back you can use to keep track of your students progress. One is even fillable! Challenge Charts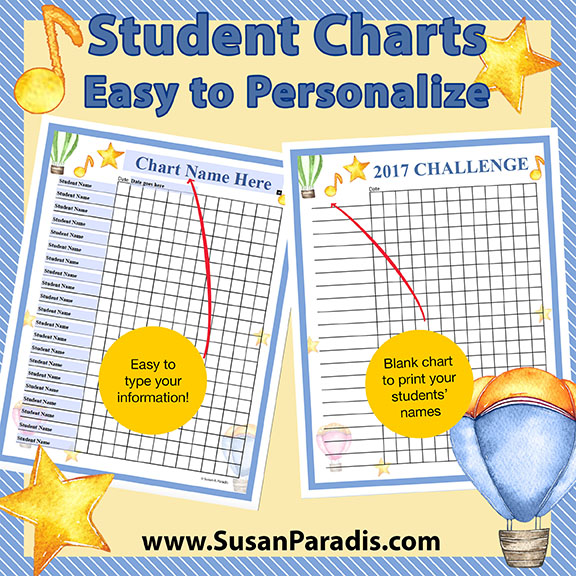 You can read more about how to run this activity on my blog at this link. One Minute Club
SaveSave
Please follow and like us: