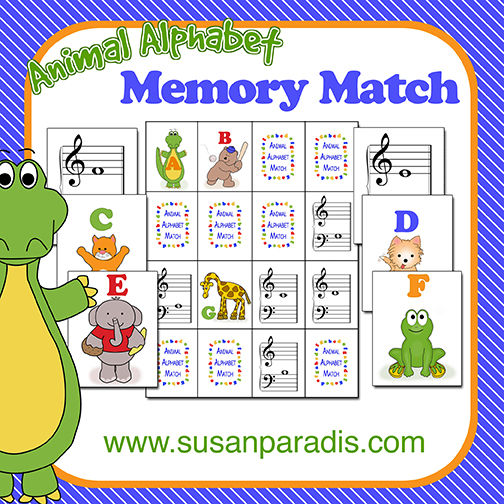 Animal Alphabet Memory Match
My students love memory games. Maybe it is because I have such a bad memory I never win!
I made this game for a student who is learning the notes on the staff around middle C. You might notice the illustrations are the same I've used in a lot of beginning activities. [A few years ago I wrote a set of short songs for each of these animals. Click here to find them.]
Directions
The object of the game is to match the alphabet letter to the correct note on the staff.
Open the PDF in the latest version of Adobe Reader.
Print the first page on card stock.
Re-insert the first page into your computer and print on the back. (You might need to practice how to print on the back using scrap paper.) There is a tutorial in my FAQ page about how to print on the back of PDF documents.
Laminate the cards for durability. Cut them along the dotted lines.
Place the cards face down in a 4 x 4 grid as shown above.
The first player turns over 2 cards. If they match he keeps them and takes another turn. If not, it is the second player's turn.
The second person continues in the same way.
 The player with the most cards wins.
Objective
To identify the names of notes located around middle C.
To improve visual memory skills.
Ages
Young beginners through ages 7 or 8.
Grid to Help Young Children Play Memory Games
Young students often have trouble playing memory games because they don't realize after they look at a card they have to put it back in the exact same space. I use this grid, glued to the file folder that holds the cards, to help them put it back in the correct space.
Please follow and like us: