My next resolution is to organize my material better. I have tried all kinds of things, from baskets to boxes to 3 ring binders. The latter is good for certain things and with clear sheet protectors has been  efficient. But a lot of my material has flash cards and small pieces  that doesn't work too well in a binder.
Take the Rhythm Memory Game, for example. It is something that I can pull out quickly to review the rhythm value of simple notes and rests. I like to use it with first year students.  Sometimes at the end of a lesson we will play a quick game. (On my list of things to do is to make a more difficult version of this game for second and third year students.)
I'm not a naturally neat person, and it used to be that every time I would get ready to play I would hunt all over for the cards because they are not very big. I keep the cards in a zip lock baggie that would be hidden under all my mounds of other material I had out to use that week. 
Then I took the advice of another teacher and made it a folder game! Check out D'net's site for some great examples of folder games.
I bought a bunch of pocket folders at a Big Box Store when they were having a back to school clearance sale. They were only 5 cents each, so I stocked up. If you are on a budget, don't spend too much money on these folders because they usually are on sale in August. After school starts you can get real bargains.  
Below is a picture of the front of my folder.   Because I'm a visual person, I have to see a picture to remember what the game is.  I printed  and cut out a graphic from the game and pasted it to the  front of the pocket folder. I can't remember the names of any of my games, but I always remember the graphic! I try not to get excessive and spend too much time on it. You could just write the name on the front with a marker.
Below is  what the folder looks like when I open it. The instructions are printed out in case a student plays by himself or with a partner. A zip lock bag with the cards is stored in the pocket. On the right side of the folder is a grid glued right over the pocket. You can draw the lines with a sharpie a little larger than the cards you print out.  The grid really helps the little ones to focus and to put their cards back if they don't match. Now we just open the  folder when we want to play and we are all set.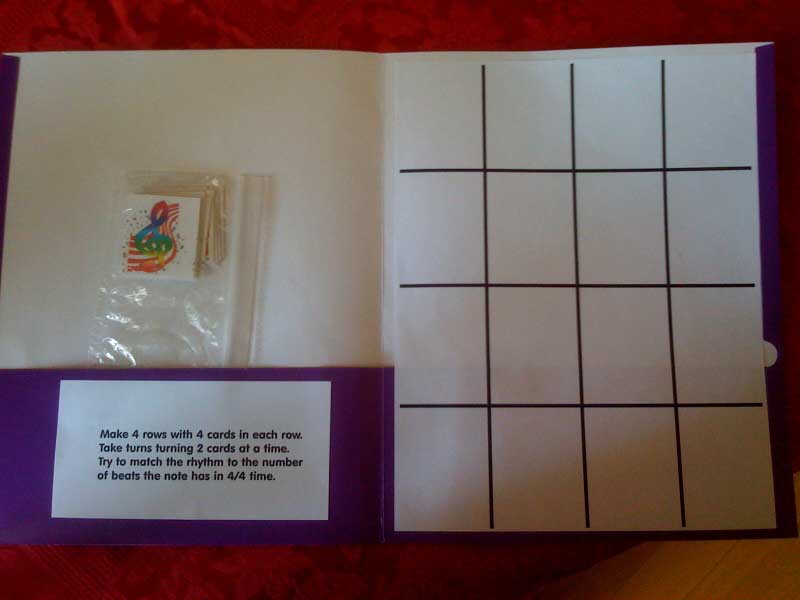 When we finish the game, I put the folder in these inexpensive but sturdy magazine files I bought at Ikea. I have several magazine files for different musical categories, such as rhythm activities or note reading. The front of the magazine file has a place to put a label so you can find which file you need in a hurry when you store the magazine file on a shelf.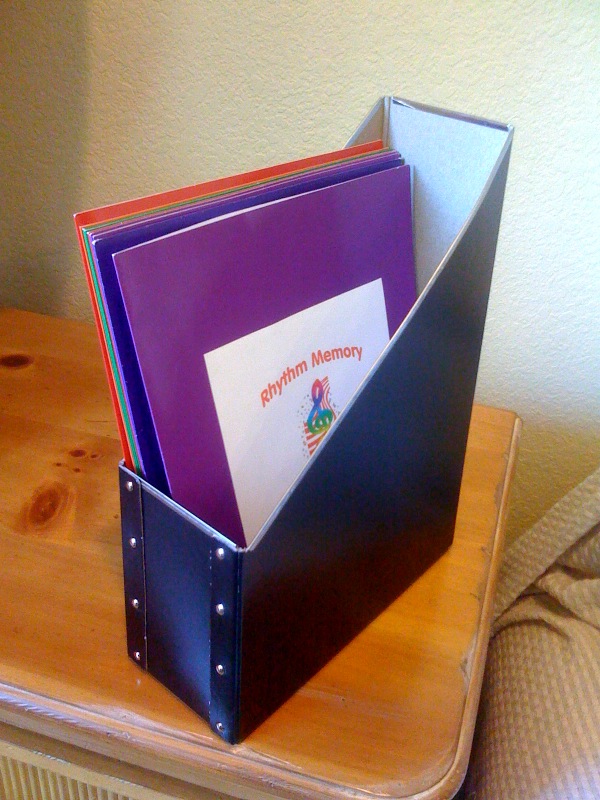 If you print out  the Rhythm Memory Game  you might notice that o your cards do not look exactly like the ones in these pictures. I recently made some changes in the color graphic because I thought my original was too cluttered.
Please follow and like us: