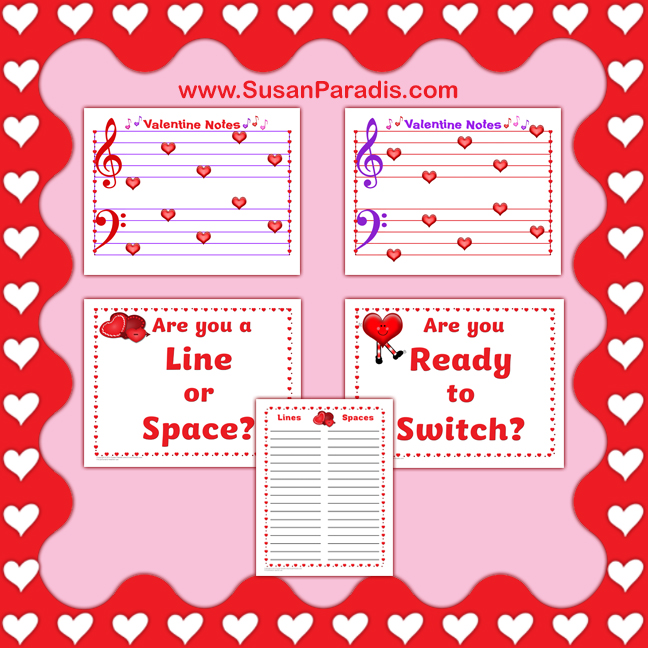 I am always looking for something different to do with my students, to shake things up a bit and add some fun to piano lessons.
I put a sign on my front door, "Are You a Line or Space?" This made them curious and got them interested. They all had no idea what I was planning on doing, but they have come to expect that piano lessons are not going to be the same-old thing.
I printed two staves with either line or space notes shaped like hearts. Since Valentine's Day is coming up,  I used that as a theme.
I told them I was doing a musical experiment on lines and spaces. I explained there would be two teams, the Lines and the Spaces,  and I wanted to see which was the easiest for students. They could choose their team or pick a line or space card from a bowl to be assigned a team. I have some students who would take 10 minutes to decide, and I need to move fast in piano lessons, so picking from the bowl turned out to be a time saver for those indecisive or apprehensive students.  
 I sat them down in front of either a line or space card. While I timed them with my phone stopwatch, they placed a bingo chip on each note as they called out the name of the note. 
It didn't take long, and students were allowed to try several times, so I could write down their fastest time on the printable I made to record the times. The more practice, the better, and everyone wanted to try it several times.  Even so, it took less than 5 minutes.
Many of the students decided to be on the "space" team, because they said spaces are the easiest. That was fine with me. What they don't know yet is that next week I'm going to post the Are You Ready to Switch poster, and we are going to switch sides!
I hoped to have time to made ledger line cards, but I didn't. However, you could use my mini-ledger line flash cards and accomplish the same thing. Spread them out of the table and play the same way.
I really wasn't planning on blogging about it, because it's kind of silly, the clip art is from other things I've made, and the printables were hastily made to get it done before my students arrived!
But, it has turned out to be fun and I wanted to share. I told teachers  I would get this posted in time for them to use it Monday, if they wish, so here it is. If you start Monday, you will have 2 weeks to play it before Valentines. Hope you have fun with it! I know we are!
Please follow and like us: