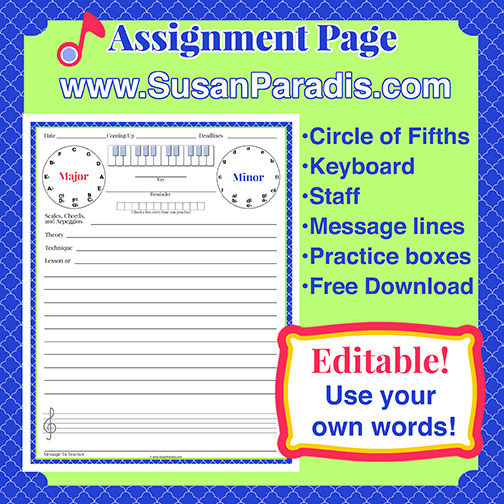 Editable Assignment Page (type in your own wording)
Assignment Page (you cannot edit this one)
I made a new assignment sheet to match my color theme for this year. If you've been following for the last few weeks, you will notice this coordinates with the calendar and binder cover. If you've ever used my assignment sheets before, this one is similar, but I made some changes I think I'm going to like better. One thing I really wanted to change was the staff. In the old version there wasn't enough space to write ledger line notes.
I print on the front and back of each page. I punch holes in BOTH sides of the page. That way, all I have to do is turn the page over and put it back into the binder. This saves a lot of paper and saves space inside the binder.
I've had so many teachers tell me they love the ability to edit PDF's, so I decided to make one assignment page editable just for my readers. 🙂 If you have never edited a PDF document before, I written some instructions. Email me if you can't figure it out.
Directions on how to edit a PDF
Open the PDF in the latest version of Adobe Reader. (This is the same free program you should use to print all of my material.)
There are about 12 text fields. You do not have to use them all.
Some of the text fields are centered and some start on the left side.
Select "Highlight Existing Fields." This will show you where to type.
You should see a large blinking cursor.
Type any text you desire, but it has to fit in the field.
After you have edited the assignment page, save it with a different file name so you can use it again.
Printing on Both Sides
I have a duplex printer, which means it will print on both sides of the paper. In order to do that with a PDF, you need a two page PDF document. Then select the duplex (two-sided) option on your printer. If you don't have that option, print on one side and use a test sheet to figure out how to print on the other side without getting it upside down.
I use an inexpensive electric hole punch that I bought from Amazon. It's lightweight plastic and I was worried it wouldn't last, but I've had it for several years now with no problems.  If you use the link to buy it, a small percent goes to me to help defray the website hosting fees. Thank you to those who help support this site because without your help it would not be possible!
Please follow and like us: