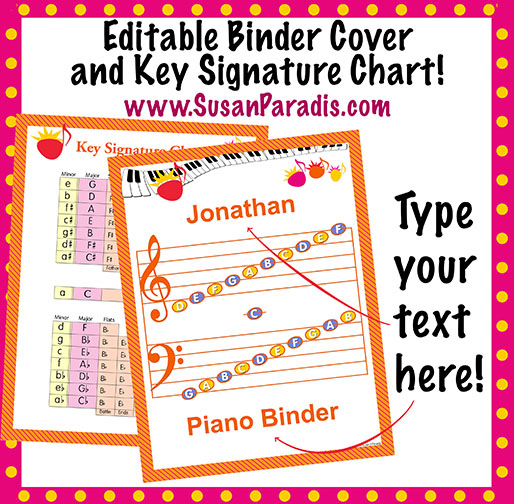 It was a year ago that I made my first "editable" PDF document, in the form of a binder cover. I think teachers liked it, so I made one for this year, too. I use them for my own students, and I want to share them with you again.
You might notice these have the same design as the calendar I posted a few weeks ago. I put them on the front and back of my students' binders. All of the students get the calendar, but my younger students get the staff with notes and the older ones get the key signature chart.
There are 2 pages in the file I'm posting. Only the first page is editable, fillable, or whatever I should call it! Every time I see editable, I think edible and get hungry! 🙂
Being editable means you can personalize it with your own text.  There are 2 places on the page you can personalize by printing any text that will fit into the space. Instead of "Piano Binder" you could type "My Music Notebook" or whatever fits.
Only want one of the 2 pages in the file? I explain how to print only one page in my frequently asked questions.
Directions
Open the PDF in the latest version of Adobe Reader. (This is the same free program you use to print all of my material.)
On the first page, click your mouse about 2″ down from the top. (See above where I wrote Jonathan.)
A light blue text field box with a blinking cursor in the middle will show up where you should type. The blue box will not show up when printed!
Type your text in the box, adjusting your wording to fit.
Repeat about 9.5″ down from the top. (See above where I wrote Piano Binder.) Type text in this box also.
I formatted the blue text fields to be centered so you will be starting in the center of each field.
Can't open the PDF files? Check out my frequently asked questions from the menu bar above.  Teachers have reported problems with the Windows 10 Edge browser and use Chrome or Explorer instead.
Don't like orange? You can always use last year's blue binder covers.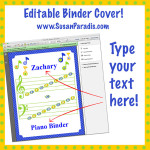 Please follow and like us: