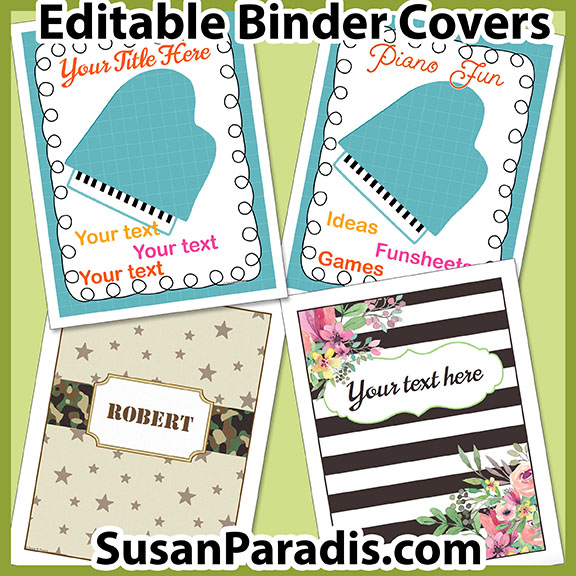 Binder Cover Bundle free download
I made a set of binder covers because it's fun to change things around.
The top two covers are for teachers or students. The cover on the top right is not editable, because some teachers want to just print and go. The editable one is on the left.
I made Piano Fun to organize my music resources. You can type in your studio name or use it for students by typing their name.  At the bottom there are 3 spaces to edit the type. If you use it for students, you could type, for example, Music, Assignments, and Theory. The middle text box is long enough to type "assignments."
On the bottom left, there are two generic covers I made for anyone to use for any subject. The black and white striped cover has a long text field so you can type a name, or maybe "Music Binder." You can type a subject in the brown one, or a student name.
Here are the instructions on how to type into the three PDF's that are editable. Not edible! Every time I type the word editable I get hungry! 🙂 The editable file is not edible, although one time my student's bunny ate half of his sheet music making it hard to turn pages. Fortunately it was memorized!
Instructions
Open the editable file you wish to use in Adobe Reader DC. (It is a free program.)
The first cover (Piano Fun) in the file is not editable.
Scroll down to the cover you wish to edit.
Click on the text you wish to edit and type your new text. The blue boxes will not print.
When you have finished typing in your text, select print and print only the page you edited by selecting the correct page in the print dialog box.
When you close the file, you will be asked if you wish to save it. If you save the file, you will still be able to edit it later.
Please follow and like us: