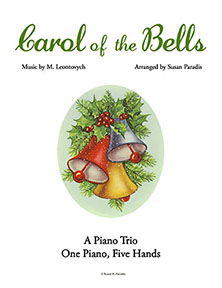 Carol of the Bells Piano Trio $7.99
3 versions of the score, 18 pages including cover page
Every year I write a piano trio (3 students at one piano) for my students to practice in advance and then play together at our Christmas group lesson. It has to be very easy to learn and simple to put together because there is no rehearsal! I usually have more than 3 students in a group, so I drag in keyboards as necessary. If there are beginning students who are not able to learn a part, I give them a percussion instrument to play along, and we practice that in advance, too. I added finger cymbals to Carol of the Bells. I want every student to feel comfortable. Since I started this tradition, my students have told me how much they enjoy it and look forward to it each year!
Today I am adding my trio arrangement of Carol of the Bells (18 pages $7.99) to the store section of my website. For the next week it will be on sale for $5.99. This is a studio license, so a single teacher may print unlimited copies each year.
There are 3 different varieties of scores included because that is what I need when I teach a trio, and I thought it would help you, too. There is the typical piano trio score, a teacher's (conductor's) score, and individual parts for each player to take home and practice. It adds up to 18 pages.
This trio is for 5 hands! The bass part uses only the left hand. Of course, you might want to modify that, and feel free to do so. This is a good part to give to a parent or an older student who is happy to sight read it.
I wanted this piano ensemble to sound as close to the original choral music as possible, so I found the original, public domain, choral score in Russian, and transcribed it for piano. The original Russian lyrics are not about Christmas at all, but is a New Year's song!
I had two age groups work on this last year, an elementary group and a middle school group. I assigned it about a month before the group lesson time, and practiced it at their lesson with me playing the other parts. They loved it so much that they wanted to play it over and over at the group lesson!  I have a diverse group of students, and this was music that all my students were comfortable playing.
Please follow and like us: