Today's Throwback Thursday features Chasing the Turkey, a fun and easy Thanksgiving music theory board game. 
If you're looking for a Thanksgiving game, I hope your students love this one as much as my students did. I don't know if it was the farmer with his ax, using dice, or if it was the fact that they all beat me. (I must be the most unlucky person in the world!)  This game meets my criteria for a music lesson game. It is fast and over quickly, so it doesn't take much lesson time.
There are several levels of cards included in this printable. Look at all seven pages in this PDF, and only print what you need. If you don't know how to do that, see my last post for instructions. The last page in this set is an optional back to the cards, but I didn't use it!
The nice thing about this game board is that you don't have to print out the cards I made. I also played this game using note flash cards to review note names, and for beginners, keyboard flash cards. If you want to review all the major and minor key signatures, check out my key signature flash cards on my website.
Objective
To review previously learned musical symbols, intervals, key signatures, and vocabulary.
To enjoy a seasonal game.
Ages
Grades 1-5, using the appropriate cards for the concepts students have learned.
Materials
Game board.
Cards with musical symbols and terms, or use your own cards.
One die.
Tokens. (I used milk carton tops.)
Directions
The game can be played with two or more players
Print the game board and cut out the cards or use your own cards.
Each player puts his token on the game board. The first player draws a card and answers the question.
Then he rolls the die and moves the number of spaces on the die. If he lands on a circle with instructions, he follows the instructions, such as taking a short cut, or moving back to Start.
The game continues in the same way with the other players.
The first player to reach Safe is the winner.
Optional: Write the instructions on the back of the game board for future use.
Why I like this game
My students loved it and didn't want to stop playing.
It really helped them remember their theory vocabulary and terms.
By using flash cards I already have, I can modify the game for all ages.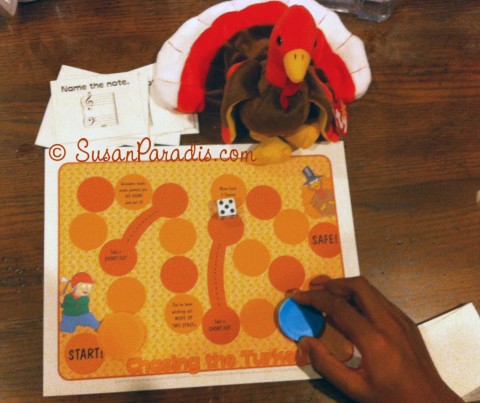 Please follow and like us: