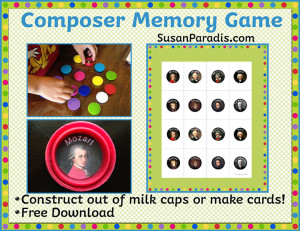 Would you like your students to learn a little bit about famous composers, but you don't have a lot of lesson time? I've made a set of composers you can cut out and glue on the inside of a milk caps. I used card stock and Elmer's 'Extreme School Glue Stick'.
If you don't have a set of caps available, ask your piano parents to collect them for you. My students really enjoyed bringing the caps to me. I have enough now to last as long as I teach piano!
If you don't have caps, the printable is made with a cutting grid, so you can cut out the composers as small cards. However, my students really liked the milk caps and thought they were a lot of fun, so I encourage you to make them that way.
I had a hard time deciding which composers to include. If I've left off your favorite classical composer, leave a comment and when I get enough suggestions, I'll make a second set!  Stick to the old composers because the portraits of modern composers are protected by copyright, although I can use just their name and not a picture.
An important part of the game is for students to say the composer's name as they turn over the cap to help them learn the correct pronunciation. After a while, they will be saying Tchaikovsky and Chopin like a pro!
This printable is for private use only. You are welcome to print this and use it with your students. Please read the first page and follow the terms of use included in the PDF.
Objective
To become familiar with the names of the great classical composers.
To learn how to pronounce their names.
To reinforce visual recognition skills.
 Ages
 Number of Players
Two or more players. The teacher can play with a student, or students can play in groups.
Materials
Sixteen plastic beverage caps (lids) the size of milk jugs.
The PDF printable included in this post.
Scissors and glue stick to construct the playing pieces.
If caps are not available, the cards can be cut out and used.
Directions
Print and cut out the pictures of the composers, cutting them in small circles that fit the inside of the lids.
Glue the composer pictures on the inside of the plastic caps.
Place the caps on a table, face down, with four rows and four columns and the composer face not visible.
Players take turns selecting two caps and turning them to the picture side to see if they match.
Students say the names of the composers as they turn the caps.
If the two caps are the same, the player gets to keep them. If not, they return the caps to the same spot, face down again.
Play continues until all the caps are matched.
Please follow and like us: