[Ed. I will use this post to list all past and future material with British terminology, as well as the material in the graphic above.]
Sometimes I forget that not every English-speaking person uses the same music vocabulary. Thanks to some help from a British teacher, here are some of my rhythm worksheets that I have re-made using crotchets, minims, quavers, and semibreves.  I also changed measure to bar, staff to stave, and the spelling of yogurt. I hope I haven't made any mistakes because a lot of this was new to me!
When you open a file, you do not have to print each page. Print only what you need. Check out my FAQ if you do not know how to do this.
UK Rhythm Worksheets is a colorful set of 5 beginning level worksheets.
UK Memory Games  is a set of matching games. There are two games in this file, both for beginners. One features rhythm values and the other has basic vocabulary words. Cut them out and place the cards face down. Students (or student and teacher) take turns turning 2 cards up, trying to find a match. You can read more about how to play these games on my website, such as this page.
UK Rhythm Review is a set of 6 levels of rhythm worksheets. This is a good way to find out how much transfer students know or use as a review.
UK Grand Staves is a set of color and black and white grand staves. Two have the notes written in, and two are blank so students can write in the notes.
UK Rhythm Round About Cards  go with the Rhythm Round About Game. This is a GREAT game to teach rhythm vocabulary. It's very colorful and uses lots of ink, but beginning students love it.
UK Grand Stave from G to F is a one page worksheet for students to write note names inside the notes.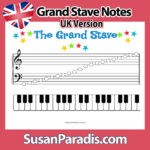 RhythmRoundUpUK is a one page worksheet to review rhythm symbols and vocabulary.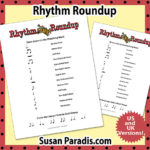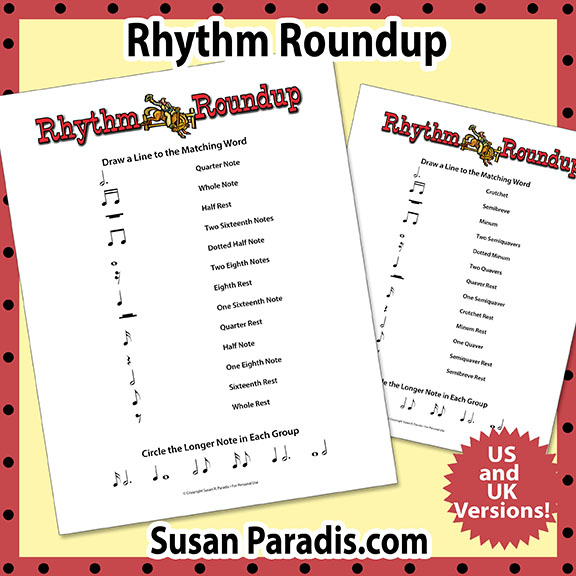 I included the UK in the name of the files so it would help you distinguish which ones are new. I hope all my friends from around the world who use these terms will find these printables useful.
Now I really wish I had a pot of tea and some scones with clotted cream and jam!
Please follow and like us: