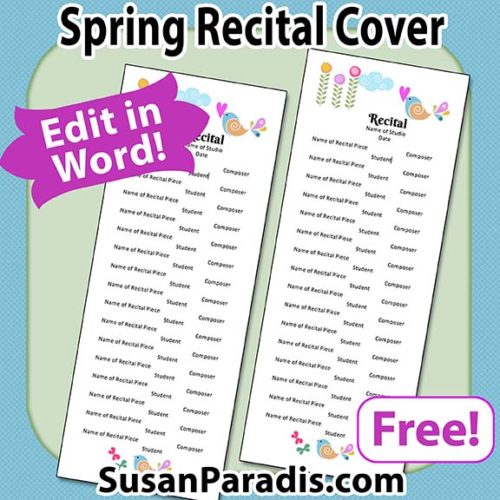 Scroll down for the free recital program!
I love the size of this cute, free recital program you can personalize in Word. I like the way it saves paper and it is also perfect for a small studio. You can print it on regular paper or splurge and use #28, #32, or different weights of cardstock. It doesn't use too much ink, just enough to make it colorful. Best of all, all the text is editable! Because it is a Word document, you can easily change the font, the size, the recital name, and the color of the text. I used tabs for formatting because I found more teachers are comfortable with tabs. To help you out, here are some helpful hints.
• Download the file and open it in Word.
• Change the existing wording. To keep from changing the format, highlight each word and replace it with your choice of text.
• Change the title to something more relevant to your studio.
• The title header uses the font Berkshire Swash which you probably don't have, so use your choice of fonts. Berkshire Swash is a free font available from Google Fonts. 
• Once you have the left side finished, copy it and paste it into the right side.
• If you have fewer than 16 students, delete the empty space at the end and type a teacher message.
• Another way to add more white space is to add extra space after the word "Student." [Go to Home > Line and Paragraph > Line Spacing Options > Spacing > select the up arrow to the right of "after."
I licensed the art and legally it must be used only as it is presented in this document. I'm very sorry I am not able to give individual instructions if you have trouble using the template.
Please follow and like us: