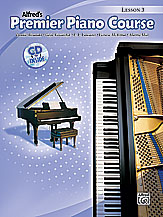 Dennis Alexander has posted a number of wonderful, helpful videos on YouTube showcasing the piano method Alfred Premier Piano, which I reviewed last year.
Here is the link to one of the videos with Dennis playing a piece from Level 3A and from there you can follow the links to watch the others as you have time. http://www.youtube.com/watch?v=VsN0blZJRmo
Dennis says that he did these videos "for the benefit of teachers who might be interested in trying out the method for the first time, or for teachers who are already using it who might gain some new insight into the pedagogy being used." I think you can also use parts of these videos with your students to improve their musicality! 
I suggest you show this video to your students who are on the level to play this piece, even if they are not in this method book.  I don't have a computer in my studio (can you believe it?) but my students are used to marching with me into my computer room for various show and tells.
Share just the musical performance part of the video with your student. The performance is short so you can play it for them twice. After your students  watch it, discuss it with them. Point out the polished dynamic contrasts. No matter how much my students insist they are adding dynamics, they often do not have enough contrast. After they listen to Dennis, discuss out how much more interesting the music is because of his mastery of the different colors of sounds. 
Next point out his hand position. For some reason it is easier to focus on hand position on a video than in person. It is for me and  I assume it will be easier for your students, too. Students need to learn that a good hand position will help them get the sound they want with a lot less effort and possible injury, too.
In the workshops I've attended with Dennis, he is very big on gestures such as the exciting rocket up of the hand after a dashing passage. I tell my students that playing the piano has a certain element of acting and drama. What the listener hears is influenced by what he sees. When students see how much more exciting it makes the piece, they will be more willing to try it out. Watch some of his other videos and make note of places you can show to students who need some inspiration.
For those of you who do not have the opportunity to go to piano workshops and see master teachers perform and talk about teaching, these kinds of videos are a wonderful addition to our resources. Take advantage of them and your students will benefit greatly!
There is another helpful resource from  Dennis Alexander that you will be interested to know. On his website http://www.dennisalexander.com/index.html  he has posted not only the first page of  many of his compositions, but recordings, too.  So now your students can listen to his music played by the composer! This will also be a big time saver for teachers who are looking for new material.
Dennis Alexander is a composer for Alfred Publishing and has published hundreds of pieces that students have enjoyed for over 20 years. He taught piano pedagogy at the university level for many years, in addition to teaching piano.  He is a wonderful performer, also.  I had the opportunity to talk with him over lunch about composing and teaching, and it was something I will always remember!
Please follow and like us: