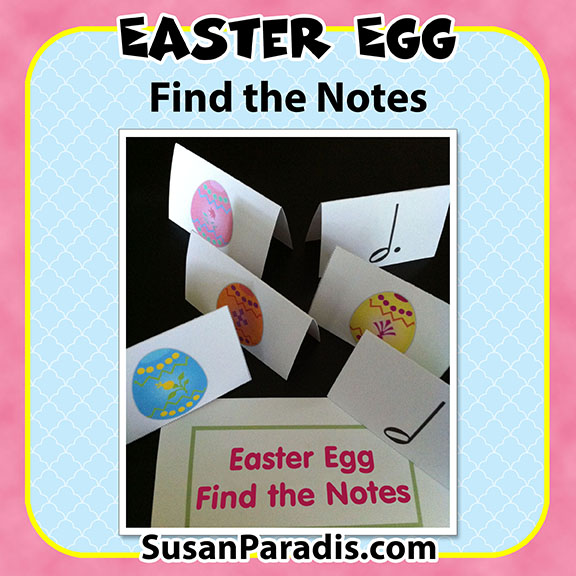 I just returned from the MTNA convention in Las Vegas, and I have a lot of ideas I hope that I can share with you! I was so excited to meet many teachers who are using my material and who are looking for alternate ways to learn piano.  Thank you so much for introducing yourself and chatting with me. It is wonderful to see so many musicians who work hard to share our love of music.
I have not been able to blog or post anything for a while, but I can "rerun" this fun Easter season game that I made a few years ago.
There is not much planning, the rules are simple, and all you need is a few minutes to cut out the cards. If you are a parent, this a fun game to play with your children to introduce rhythm names.
Click on the link under the picture above and download the free printable. Print the pages on sturdy card stock and cut them out. Do not laminate the cards. Fold in the middle so the egg is on one side and the notes on the other. (Cardstock is easier to fold if you score it lightly using a ruler and a dull point, such as a dull butter knife. Leave a comment if you need more directions.) After folding, the cards sit up like a tent. Hide them around the room with the egg facing out.
DIRECTIONS
Tell your student that you have hidden eggs cards all over the room. The cards have different rhythm values on the back. The student's job is to find and collect the ones with half notes (or whatever note you want to work on) as fast as possible.  Depending on how much time you have, you can play again, collecting different rhythms. It is so much fun watching the student run around the room collecting cards!
This is also an excellent activity to introduce a new rhythm note to beginning students.
OBJECTIVE
To quickly learn to recognize rhythm note names
To learn that stems can go up or down
To introduce rhythm names to beginners
To play a fast (under 3 minutes) game
AGES
Early childhood to grade 2 or 3
This is a variation of a game idea from Cecilly called Quarter Note Hunt, and it has been a long time favorite in my studio.
Please follow and like us: