I am posting several games to play the week before Easter. Some teacher will be having group lessons and these games might come in handy if you have younger students.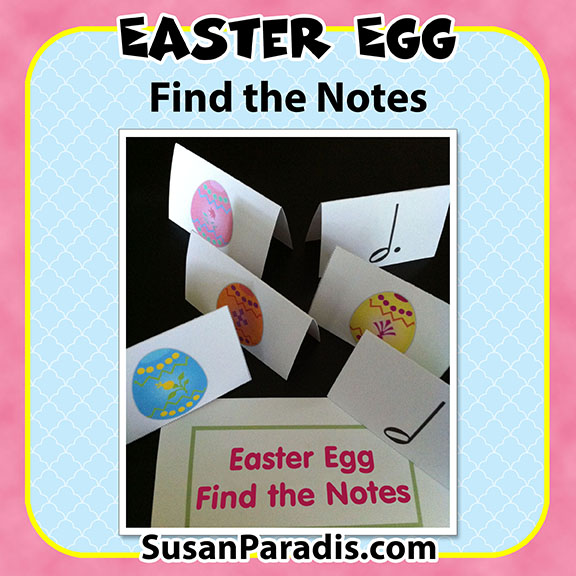 This first game can be played with one student or a small group. After printing the cards in landscape format, cut them out and fold them so the egg is on one side and the note on the other. Hide them around the room. Ask the student to find all the quarter notes, or find all the whole notes. Little ones love to play this. For older children, set your timer and have a timed race. You might need to print out more than one copy. From experience I have found that if they are laminated they do not fold well unless you only laminate one side. These cards are similar to the  Quarter Note Hunt game that I posted a  while ago.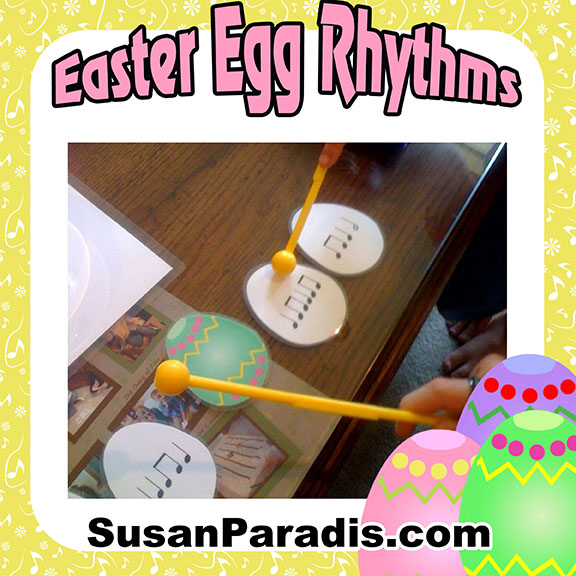 The second  game can be played more than one way, but it was designed for a group. Of course you can modify it for one student.  First, there are 2 pages and they need to be printed front and back on card stock so the rhythms are on the back of the eggs. If my rhythms don't suit your students, print just the colored page and write in your own rhythms on the back.
After printing the front and back twice, I cut out the eggs and laminated them. The next step was to cut out the eggs after they were laminated.  I used this two-step process because I have trouble cutting laminated card stock in circles. Usually I design things with straight lines so I can cut them with my paper-cutter.
You have a choice of games with these cards.  You can hide them around the room and let a student or a group of students look for them. When all the cards are found, the student will clap  the rhythm of the card he found.   This is a good hide a seek game for students too old to play the first game. Be sure to print enough cards for your group.
Another way to use these cards  is to sit in a circle and pass the cards to some music. Older students like to play the music while younger ones pass cards. Have one less card than the number of students. When the music stops, everyone has to clap their rhythm card, and the student without a card is out.  Or you can pass one card and whoever has it when the music stops has to clap it. Well, the possibilities are endless and I'm sure you will have a lot better ideas than me! If older students are playing, you really will have to print some blank cards and draw  some harder rhythms.
Last week I posted a staff with little eggs on it for notes. This week, all the younger students are going to use it with jelly beans as notes on the staff. Then when we're finished I'm going to let them choose a plastic egg that has a little chocolate egg inside and a rhythm note. If they know the name of the rhythm value, they can put all their jelly beans inside the egg and take it home. If they get it wrong (and I don't think any will, because by now they all know their rhythm note values) I'll let them keep trying until they get it right.  I want all that candy out of the house and I want them to go home happy!
Please follow and like us: