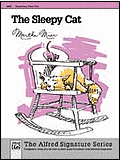 A few days ago I wrote about the importance of sheet music and posted some of my favorite Early Elementary Pieces. Today I'm going to post some Elementary level pieces. Most do not have eighth notes, although some do, so keep that in mind. They may have some hands together and move around more. Remember, preview these before you buy. Your taste in music may be completely different from mine!
  Sleepy Cat (Alfred) by Mier is a piece I just couldn't do without. I hope it never goes out of print. This is an  easy C Major position piece, very cleverly written in 3-4 meter in a slow blues style. Elementary age kids love this piece because of the jazzy feel. It has words, a cute kitty on the front and a slightly larger size of notes, so I usually use it with younger students. However, I have had 5th graders love it, so use your judgment. There are plenty C major staccato triads, so don't give it to young beginners.
 Gold Doubloons (Alfred) is also by Martha Mier and it is just broken chords in C minor that moves down an octave on the second page. It is a perfect piece for a first year student who wants to sound like he has been taking longer. Depending on the flair of the student, it can sound very impressive after a few months of lessons because you can almost teach it by rote. It stays in one position, but there are a few hands together measures. While it was written for the  Alfred Prep B book, it is listed as a best seller and for good reason. This is a long time favorite of mine and Martha Mier is my hero. She can do so much with so little!
Somethings Under My Bed (FJH) by Kevin Olson is the elementary piece most requested by my students when they hear another student play it. It has a playful but mysterious tune with fun words. Students love the unusual chords for this level! They tell me they "just like the way it sounds." Although it is listed as an elementary piece, it is more late elementary. It has a lot of articulation, eighth notes, and some hands together that requires a lot of experience. To use with this with the appropriate age, a student should be at least in the middle of a Level 2 book. This is a NFMC choice piece and you can see a preview on the FJH website. I love all of Kevin Olson's music because he is so original.
Swans in the Sunset (FJH) by Bober has a beautiful teacher duet. It is very peaceful and expressive. A surprising number of boys pick this piece, especially the more thoughtful.
At the Air Show (FJH) by Gutierrez sounds harder than it is and students like to sound impressive.
 The Baby Dinosaur (KJos) by Bastien has a very pretty cover and is good for a student who wants a sweet piece.
 Rambling Rails (FJH) by Bober is an easy fun piece.
 I have a few others that are on my student's favorite list, but I can not do a good review because I don't have them on hand. I'll list them and later when I get a copy I'll come back and edit this post.
 Masked Rider by Bober
Creepy Crocodile by Rollins
Chugga Chugga Choo Choo by Gutierrez
Crown Jewels by Chris Goldston
Please follow and like us: