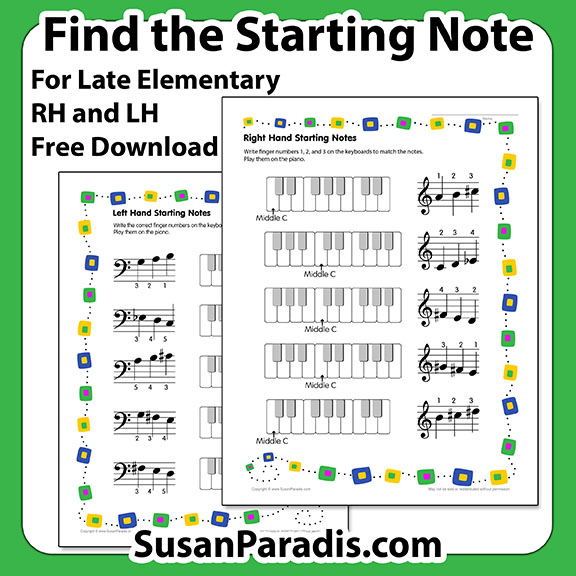 Find the Starting Note level 2
Do you remember when I posted a easier version of this worksheet back in June? It has been a very popular worksheet because students actually have to figure out how to place their hand so they can start a piece. [The easy version uses only fingers 1,2, 3 and does not contain accidentals.] Sometimes students get a little lazy in trying to work out music on their own and need some help in learning how to get started.
Teachers asked if I would make a more difficult version, so I am posting it today. Click on the link under the picture to print it. This version is a lot more challenging, but I've tried it with my students and it is very helpful. It is also a good diagnostic tool, so I like to have the student work on it at the lesson.  I made it short, because we all have limited lesson time.
Simple things like having them wiggle their starting finger and fly it around in the air before landing on the key is very helpful with students who never seem to bother with finger numbers. This is especially true of students with small learning disabilities.
It is important to not only write the finger numbers on the worksheet, but to find and play it in the correct position on the keyboard. I encourage students to try this on the little keyboard that is printed on their assignment sheet. In the past students who had perception difficulties dropped out of formal music study, but now we know a lot more about how to modify our teaching to reach all children.
There are two pages in this document, one for the right hand one for the left hand.
Objective
To identify and play several different starting positions containing accidentals on the keyboard.
Level
Students who are familiar with and can identify notes on the grand staff containing accidentals. Students should be comfortable with chromatic signs.
Please follow and like us: