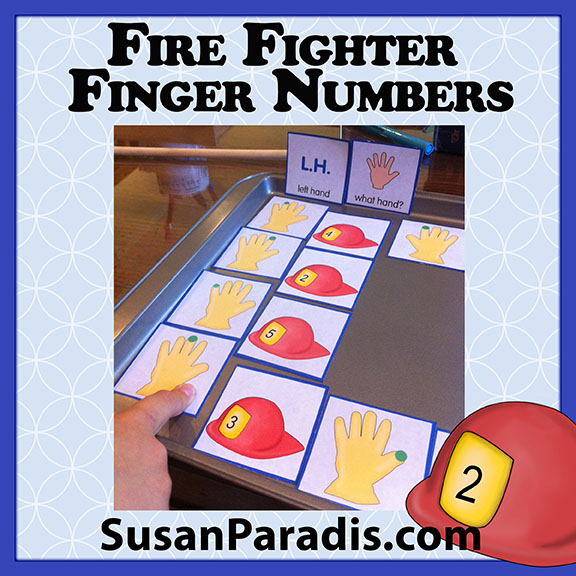 This is an activity for those of us who teach young children or for parents who want to give their children a head start in learning piano. I made this for a 4-year-old who loves anything related to firemen. I wanted an activity he would enjoy that would be a good way to reinforce finger numbers. Thanks to this game, his confidence has soared because it is now easy for him.
In addition to finger numbers, this activity helps children learn the meaning of the symbols RH and LH as well as to learn to distinguish their right and left hands.
I printed my cards on  magnetic printer sheets but you can also use card stock. The magnetic sheets are kind of pricey, so shop around and see if you can use a coupon. Mine came in a sample pack, so I wanted to try them out. You might want to try printing them on card stock and using magnetic strips you can buy at craft stores. Disclaimer: My magnetic cards are a little difficult for young students to use until they get used to how thin they are. I remove them from the cookie sheet and hand them to the children until they learn how. Standing them up on the sides of the cookie sheet helps.
Material
The free Firefighter Finger Numbers printable, printed on card stock or magnetic printer sheets
Cookie tin or magnetic surface, optional
Directions
Print out both pages of Firefighter Finger Numbers and cut them into individual squares.
The student will match the finger with a dot on the "glove" with the correct number on the firefighter "hat."
Place all the cards in view, so that the young child can see them and select the correct card.
The student will learn faster if he says the finger number out loud as he works.
If the student is capable, (older) play a memory game with the cards. If you do this activity, do not use all the cards,  because otherwise it is too difficult for the intended age group.
Objectives
To visually match a finger number to the correct finger on the left or right hand
To recognize the printer symbols LH and RH as right hand and left hand
To identify a picture of a hand as a left or right hand.
Ages
Early childhood, age 4 to first grade
If you need more material for learning right and left hands and finger numbers, check out Colorful Hands, Finger Numbers for Beginners,  and Colorful Fingers.
I am working on a Bingo Game of some sort for finger numbers as well as some other early childhood printables. Sign up for email updates of my blog so you won't have to keep checking. Your email will remain anonymous. Click Follow Susan's Blog by Email at the top right of the page.
Please follow and like us: