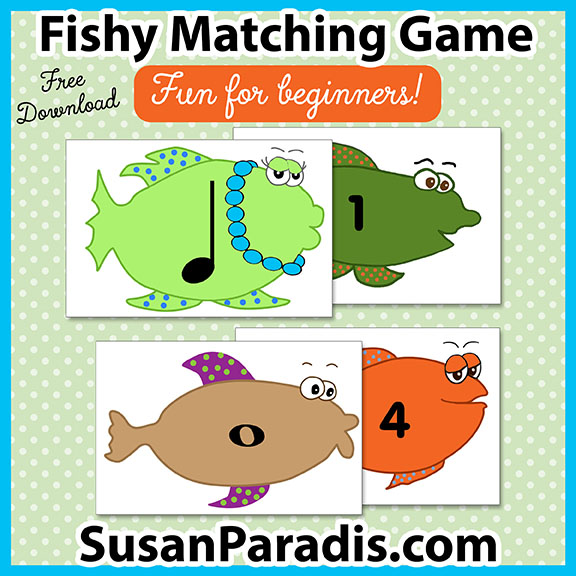 My beginning student wanted to play the fishing game, so I made some rhythm flash cards for him. He had not learned rests yet, but after playing this game, now he knows them!  I changed the color of the fish so they are all a solid color. I thought this would help young and/or distracted children to focus on the notes. Then they looked too plain, so I added the dots.
My little student is bothered by the fact that the dotted half note doesn't have his own name!  He feels sorry for it. Then he wanted to know why I didn't make a dotted half rest. Isn't it funny what children will key on?
I also used these cards with lower elementary level students,  and for them I set a time limit to see how many they could catch and identify in a certain amount of time. Otherwise, we would have spent the whole lesson fishing, which I think was fine with the kids, but not for me because I have a lot of music I want to teach!
The cartoon nature of these cards show they are intended for young children, so I don't plan to make any with higher note values. However, if you want to play a fishing game with older students, you can use regular flash cards. I suggest a time limit for this, too.
Every day I get emails asking me what program I use to make these fish. I drew these myself in Photoshop.  The reason they look so homemade is because they are! I'm not an artist, so it's kind of painstaking for me. But I love art and I wish I could really draw.
Please follow and like us: