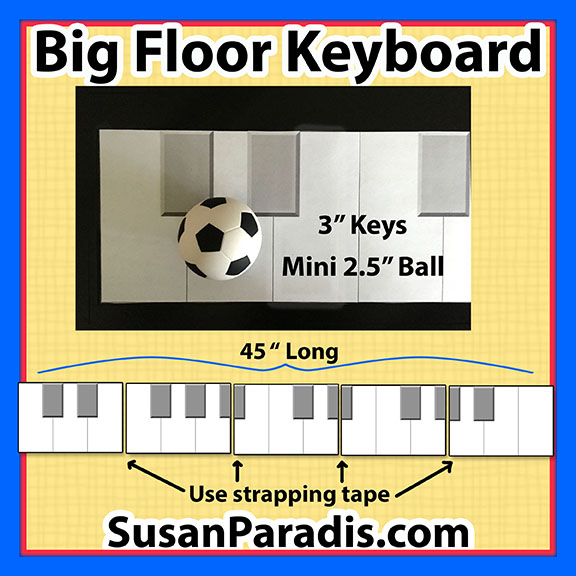 You can print, cut out, tape together, and use this floor keyboard for games. If you tape it together with a good strapping tape, you should be able to fold it for easy storage. Leave a little room (about 1/8″) when you tape it together so that you can fold it up for storage.
There are 5 PDF pages to cut out. Use card stock for the best results. The white keys are about 3 inches wide, to give you an idea of the size. In case you are wondering, I made the black keys gray because I am trying to save some printer ink. If that bothers you, get a marker and make them black. I haven't found it a problem with students.
[Edited: the soccer ball above is a mini ball that is about 2 1/2  inches in size.  Since it rolls around, you might prefer to use something like a mini bean bag. A regular size bean bag is too large. However, we had a lot of fun with trying to kick the mini ball to a note on the keyboard! If you have a lot of time you might want to try it. It was hilarious!)
Tomorrow I am going to post alphabet cards to go with this keyboard if you want to play a by Cecilly for beginning students to toss a bean bag to identify keys on the keyboard. Check back tomorrow for the cards and the rules to Cecilly's game. However, I'm sure many of you will think of clever ways to use this floor keyboard!
Please follow and like us: