How do a find things I'm looking for on your site?
Many resources are retired and unavailable. Other items are in the store. Check the free page or do a Google search for items in the store.
How do I print your free material?
You will need to have the latest version of Adobe Reader installed on your computer, which you can download free here. If you do not use Adobe Reader, the document may not print correctly.
Why can't I can't print your PDF files?
Please try each of the following solutions.
Are you using the latest version of Adobe Reader? It is a free program.
You should use a desktop or laptop computer for the best printing results. These PDF files are not made to be printed from a mobile device unless you download a special app for printing PDF documents. Since apps change frequently, you will need to research which one to use on your particular device.
You may not get good results from the following: Google Docs, the default browser that comes with Microsoft, Internet Explorer, or any other program other than Adobe Reader.

Try saving the file before you print it.

Try a different browser.

Restart your computer.
Unplug your printer, wait 30 seconds, plug it back in, and try printing again.
There might be heavy demand on my site. Wait until the next day and try to print again. Try to print at the least busy time.
Try to print the material on another computer and printer.
Ask someone to come over and help you.
I'm truly sorry that I cannot help every teacher, but I really do not have the resources and knowledge to know why the files are not downloading correctly on your computer. If you still cannot  print after you have tried all of the above, then, unfortunately,  I have no other ideas. The good news is that often teachers tell me they wait a while and they are able to print them at a later time!
How do I edit a PDF in Adobe Reader?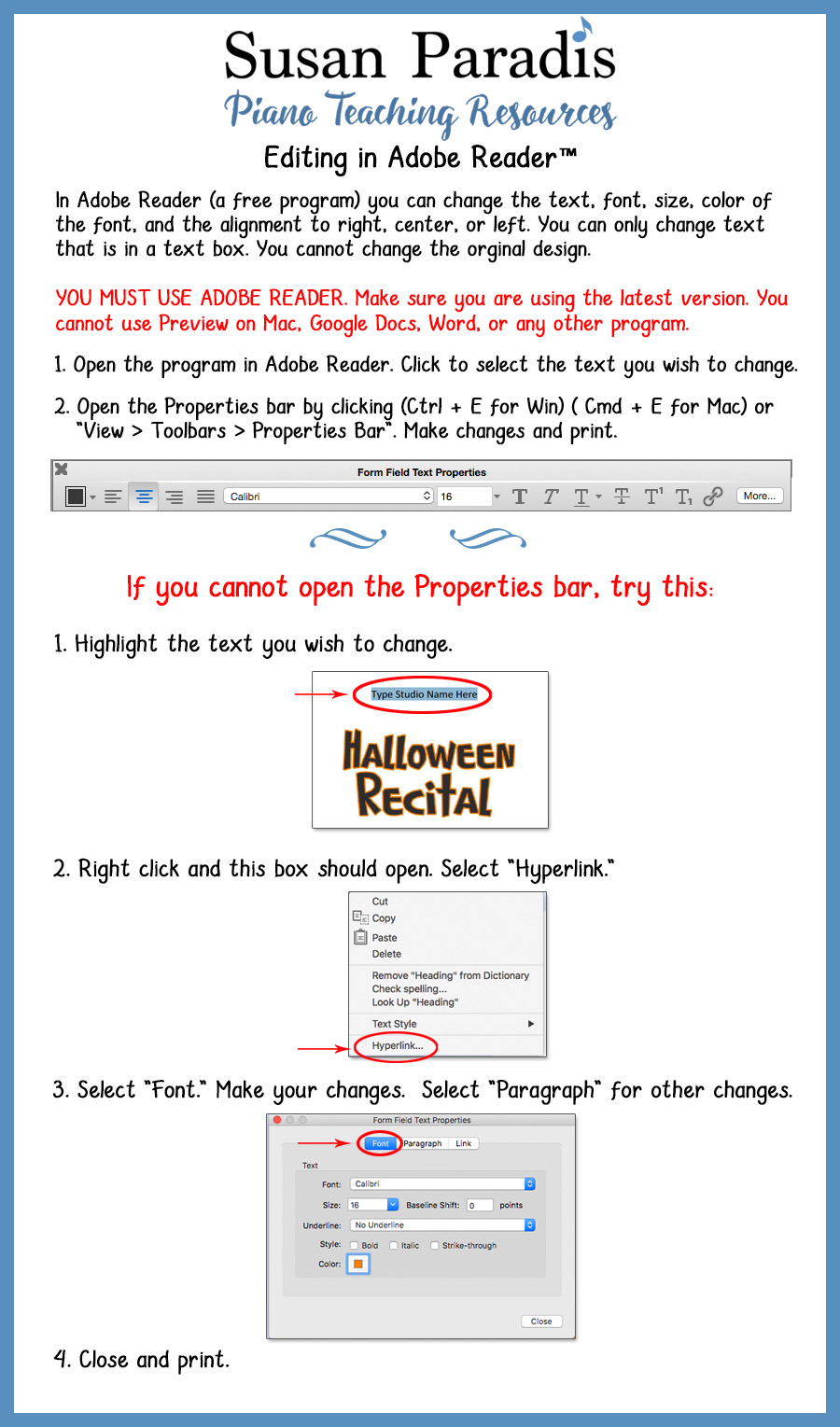 PDF Documents: How to print only one page and also how to print both sides of flash cards.
Download the file by clicking the link under the image.
The file (called a PDF) will include both the front and back of the cards. I suggest you scroll through the PDF file to see all the pages before you print.  When you are ready, open the printer dialog box.
Under the Pages to Print instructions in the pop-up box, select "Pages", and then type the page numbers of the front of the cards. For example, if the font of the cards are on pages 1, 2, and 3, type 1-3. Select "Print." Only the card numbers you typed in will print.
In order to print on the back, insert one of the pages you just printed back into your printer and type the PDF page number that contains the back of the cards. Do the same for every page that you intend to have a printed back. You will need to know which side of the paper your printer prints on, so test that out before you waste a lot of paper and ink. Every printer has a different way to do that.
Adobe Reader updates the PDF reader program regularly,  so in the future, the box below may look different, but the general directions will be the same.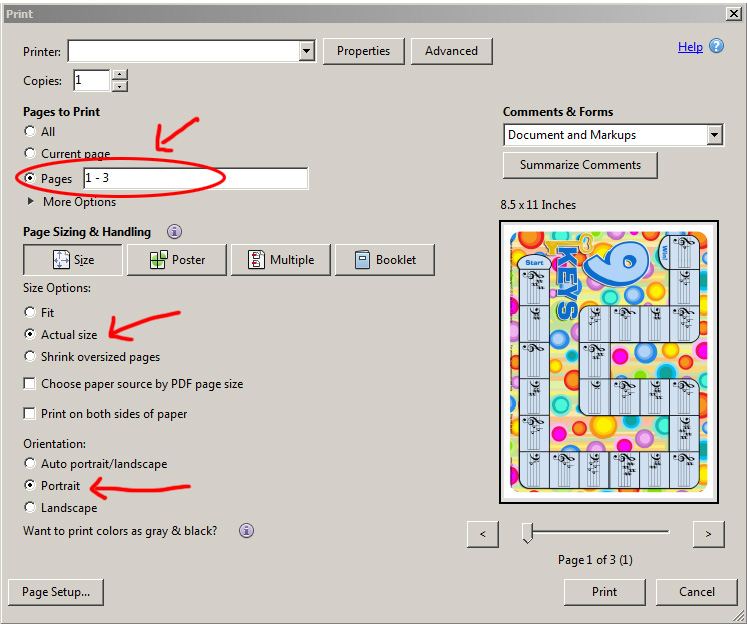 How do I get the link to download something I bought in your store?
Set up an account when you order, and you will find the links there. To get to your account, select Store from the top menu. When that opens, scroll down to My Account. Open your account and you will find the links for your order. You will also be sent an email, but sometimes they don't show up and are sent to SPAM or TRASH. If you don't get an email, please check your account.
What is your disclosure policy?
Piano Teachers Resources is a personal blog written by Susan Paradis. Occasionally a small commission is received from links as an affiliate for the purpose of recommending teaching material that is helpful for teachers. These links help support the blog.
Reviews and opinions expressed in this blog are personal views and are not compensated or solicited. The majority of the music and all of the products recommended are purchased by the blog owner for private studio use. However, in a small number of posts, Piano Teachers Resources is given a copy of the music.
Why didn't my comment show up?
To keep down spam, comments are moderated. You may remain anonymous when you comment. Your email will not be published unless you specify it.
Do you know there is a mistake in your music/worksheet?
I try to proofread everything, but I miss things. Please help me out by letting me know and I will fix it as soon as possible.
Can I use your art and/or music on some of the things I make for my students? 
No, I own the copyright of the designs and music and it must be used only in the form that is downloaded from this site.
SaveSave
SaveSave