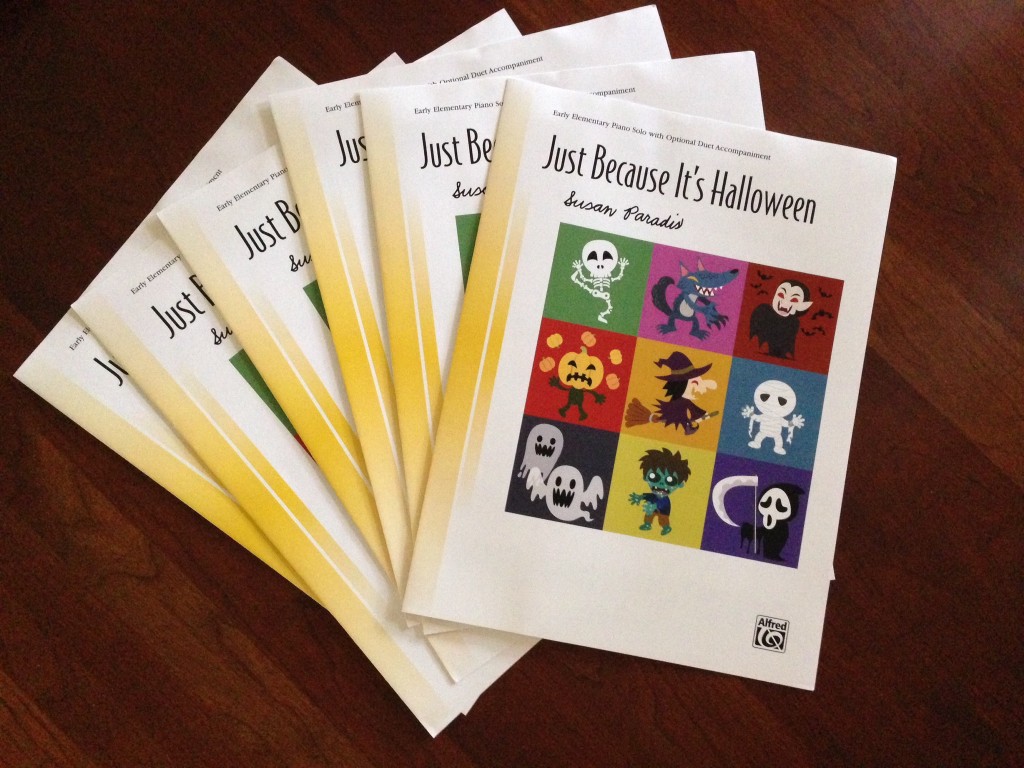 You're probably wondering why I'm posting about a Halloween piece in June. Well, I just got a package in my mail box and it is my new piece, published by Alfred Publishing! This was the first time I had seen the cover,  so you can imagine how exciting it was to open the package! Thank you, Alfred, for the cute cover! I can't wait to show it to my students!
When I wrote this piece I was thinking about the first Halloween I can remember. I  was three years old,  just about a month before my 4th birthday. It was the first time I had a costume and was going "trick or treating." My older cousin came walking in the room with his mask on, and it scared me to death! Then my very sweet aunt told me not to be scared, he had on the mask because it's Halloween! So thankfully, I was not scarred for life and went on to have many fun Halloween nights. These days I get to re-live my childhood when I write Halloween music!
My favorite costume back then was my cowgirl costume, which probably really dates me! Anyone else remember Annie Oakley?
Just Because It's Halloween is an elementary piece that is very easy to learn if students have some experience with skipping notes. Both hands are in the D minor 5-finger scale position and there are just enough finger numbers to help out if they are not used to that position.  This is a great piece to help a student who is having trouble playing out of middle C position. It a good piece to give a transfer student who needs something fun to work on while you get to know their skills.  There are words for singing along and a teacher duet that is easy enough for an intermediate sibling.
The first and last section feature staccato notes while the middle section is legato. There are plenty of opportunities for your students to add expression and imagination by using forte and piano and "stretching" the beat at the end of the B section.
This is hot off the press, so it's not widely available yet. If you're in the Dallas area, Nadine's Music Manor is stocking it. In Houston, you can get it at Valentine's House of Music and they also take online orders. I like to support local music stores if you are lucky enough to have one nearby. On the Alfred site, you can see a preview of the music and here is where it is listed on Amazon. Just Because It's Halloween
To enter the giveaway, please leave a comment below by Monday, July 7, 2014, at midnight CST telling me your favorite music store to buy Halloween music, either local or online! I'd love to hear from you!
The winner must have a U. S. address and will be randomly selected and announced  after the deadline.  The lucky winner will receive a copy of the sheet music in the mail!
(Comments are moderated, so your comment might not show up immediately.)
[The contest is over and the winner is Patricia in Tucson! Thank you to everyone who entered. I enjoyed reading about where everyone lives and where you buy your music. Thanks for all the congratulations, as I really appreciate all your kind words. This is the first give-away I've had on my site and it's been a lot of fun for me!]
Please follow and like us: