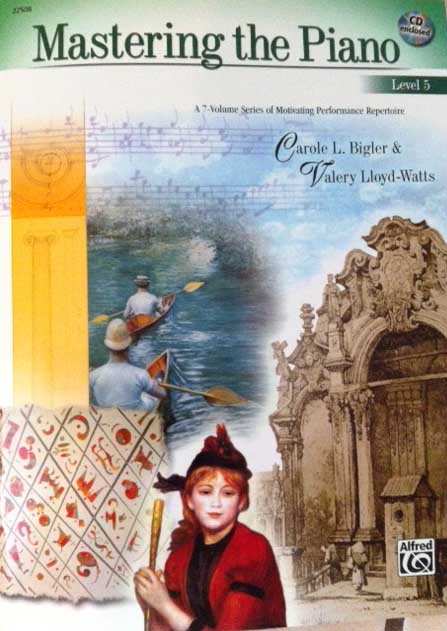 Recording artist, teacher, and virtuoso performer Valery Lloyd-Watts along with her professional collaborator the late Carole L. Bigler are the editors of Mastering the Piano, a 7-Volume series of graded performance repertoire. I like this series because it has some of the most requested and best-loved classical repertoire, complete with CD recordings.  Editorial markings are limited to fingering and ornament realization. (They have also published a book on ornaments, Ornamentation, which has been quite helpful in my studio.) When I started using these books some time ago, CD's were a rarity in piano literature collections. These CD's, performed by Valery Lloyd-Watts are excellent, with beautiful harmonic coloring. I have happy memories of playing these CD's as I drove my children's car pool and wondering how Valery could make the piano sound like so many different instruments. Their many books are available from Alfred Publishing, a leader in excellent, yet affordable piano literature.
Valery Lloyd Watts has just developed a website with teaching and performance instructions for all the pieces in the series. On her website there is a link to a 365 page book called The Bigler~Lloyd-Watts Mastering the Piano Manual. Teachers are able to freely download this book.
I discovered that their on-line book is more than just a manual of pedagogy instructions.  Chapters include the Music Learning Cycle, Teaching Strategies, Technical Regime for Pianists, and the Business and Professional Aspects of Running a Studio. It is a downloadable piano pedagogy textbook!
The last section of the book is devoted to the teaching procedures of the Mastering the Piano series.
In detailed steps, each piece is broken down into small practice segments with instructions on how to learn difficult passages, complete with hints for such practical things as fingering, pedaling, memorization, and articulation.
If you have ever wondered how to teach a certain classical piece, or how experienced master teachers and performers teach, now you can see for yourself. This is such a generous offering from this esteemed duo. It is an incredible resource for piano teachers and I highly urge you to read through the entire book. I would sincerely like to thank Valery Lloyd-Watts for making this freely available to piano teachers all over the world.
Please follow and like us: