Editable Halloween Recital Program
Editable Autumn Recital Program
Today am posting free, ink-saving Halloween and Fall recital programs for piano and other music recitals. These programs are easy to personalize in the free Adobe Reader.
These are folded recital programs that you might want to use, but have found it hard to find a free template that you can easily print on your home computer. They are colorful, but they don't use a lot of ink because I left the background white. For the best results, use 24# paper, but I have used 20# at times, and it's not too bad. Try it first on your printer before you rush out and buy the thicker paper. Use a normal printing setting.
I always found the inside of a folded program to be the hardest part, so I've also included a link to a Word template that I have used for years. Find the inside template here.
The cover with the art HAS to be edited with Adobe Reader, a free program. 
The template for the inside of the folded program HAS to be edited in Word. 
I hope this doesn't confuse anyone, but the nature of the files require different programs.
Instructions for the cover of the folded program
Open in the file in Adobe Reader. If you are not sure how to do that, ask a friend or relative for help.
Using my text as a guide, put your cursor in the text you plan to edit.
With your cursor, highlight my text wording and type yours over mine.
Move your cursor down to the bottom under the graphic and edit the location, date, and time.
Move your cursor to the left side if you want to type on the back of the cover. If you don't want text on the back of the program, don't forget to delete my wording.
Print the cover.
It is also possible to edit more than just the wording of the text. The following tutorial has instructions on more advanced editing. Give it a try!
Advanced Instructions to change fonts, size, and color in Adobe Reader.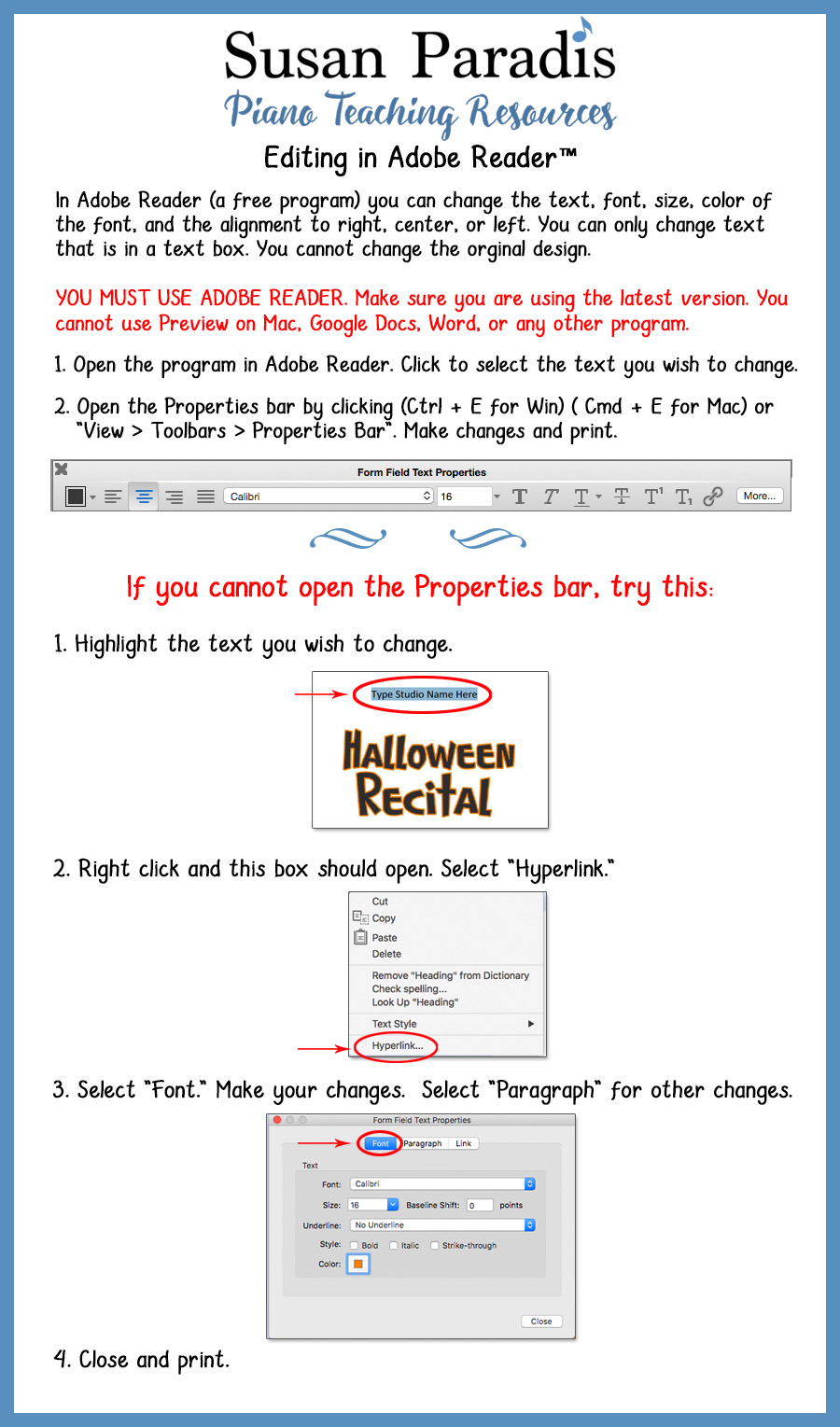 I regret that if you have trouble with editing these files I will not be able to help you. Differences in computer operating systems, browsers, software versions, and so on, mean that I am usually at a loss on how to help. On the other hand, if you find a typo or a mistake on my part, please let me know right away!
Please follow and like us: