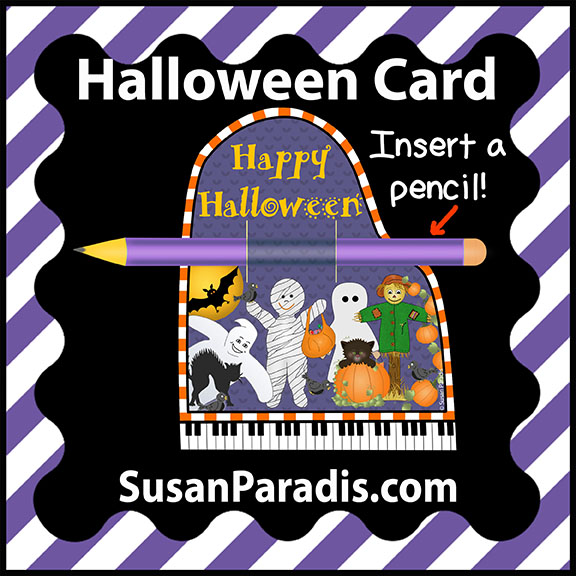 Here is a simple Halloween card you can give to your students next week. All you have to do is print it on card stock and cut out. Then, using a ruler as a guide, cut the 2 light-colored lines on the cards with a craft knife. These slits will be where you will insert a pencil. I found these easy to cut out because there are no little tiny bits to cut around!
I've found I can buy very inexpensive holiday pencils at nearby dollar stores. The ones I'm using are 12 pencils for a dollar.
Alternately, you can insert a lollipop or a glow stick which can also be found in packs at dollar stores.  You can also tape on a piece of candy.
If you use the pre-reading and on-the-staff Halloween and Fall music I've posted over the years for beginners, you will recognize the art. Your young students will enjoy figuring out which songs the art goes with.
If you or your students prefer Autumn related activities, below is a link to some fall-themed bookmarks I posted previously. If you've been following my blog for a long time, you will recognize them. In the past, I have written a short message and taped some candy on the back. There are four bookmarks on the page and with all straight lines, they are easy to cut out with a paper-cutter.
SaveSave
Please follow and like us: