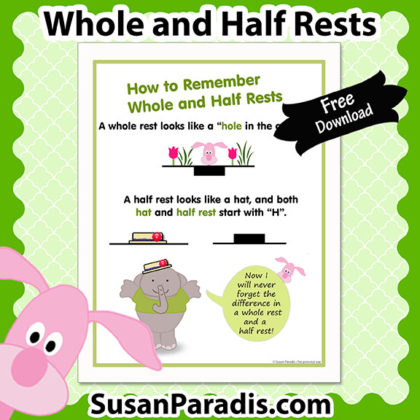 It's Throwback Thursday, and here is a post from 2008! This poster is a great way to help students remember the difference between whole and half rests, which look so much alike to new readers.
I keep posters on a display stand on the low table in front of the couch where they wait for lessons. I change out the posters frequently, so it's a great way to learn and reinforce concepts while they wait. The following is the original post:
When I was a little girl learning piano, I always got things mixed up. I didn't understand time signatures, notes were nice, but I didn't need them, and I couldn't keep whole and half rests straight. That was until I thought of a way to remember them. As it turns out, a lot of teachers use the same method to distinguish whole and half rests! I thought it was my own little thing.
I've always taught my students this way to remember the difference in whole and half rests, drawing little flowers and hats in their theory book. One day I decided to make a poster I could give to beginners or anyone who got them mixed up.  I had lots of fun making it. I drew everything myself for this poster, so  I can't blame the clip art on anyone else!
Please follow and like us: