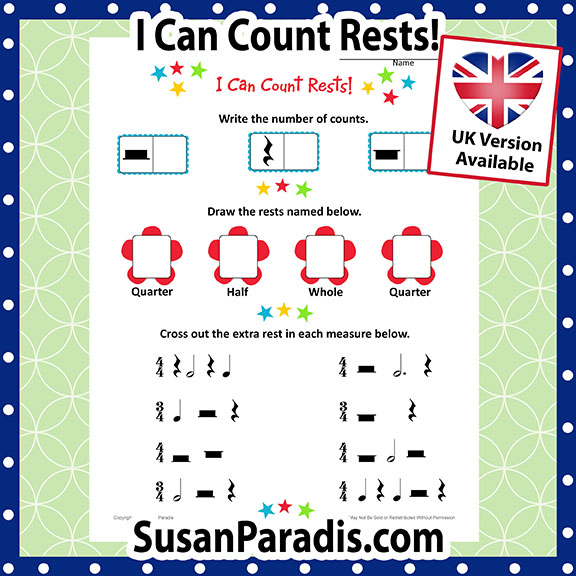 As a teacher or parent, you already know that children vary greatly in the ages they learn cognitive skills. I tried today's I Can Count Rests  and its companion,  I Can Count Rhythm, with preschool children and they had no trouble writing the number of beats the notes/rests received, but had trouble drawing the notes. They also drew a blank when it came to the last section, counting the notes. So I am not recommending these rhythm worksheets for children who cannot add and subtract. The part where they have to cross out the extra rest is too complex, and it is a lot harder than the math they are doing in school.
On the other hand, a 7-year-old loved the last section the best and thought it was so much fun she asked me to make her some more examples just like it.
[I have a silly poster that helps them learn the difference between whole and half rests. If your students get mixed up, try using this printable. It really helps.]
In my last post, I listed some easy rhythm games. To keep you from having to go back,  here are the links again for simple  games to review rests and notes: Quarter Note Hunt, Fish Rhythm Matching Cards,  Rhythm Round About, Counting Up the Mountain, and the black ink Rhythm Memory Game.
I hope you find just the right age for these worksheets. They are large enough to use on an iPad or some tablet of that size. Click on the title link under the picture to print them, and be sure you are using the latest version of Adobe Reader.
Some teachers in places I would love to visit have asked about a version using the UK names for notes and rests. I don't have time to post it, but for a limited time if you will send me your email address,  I will be happy to email it to you.
Please follow and like us: