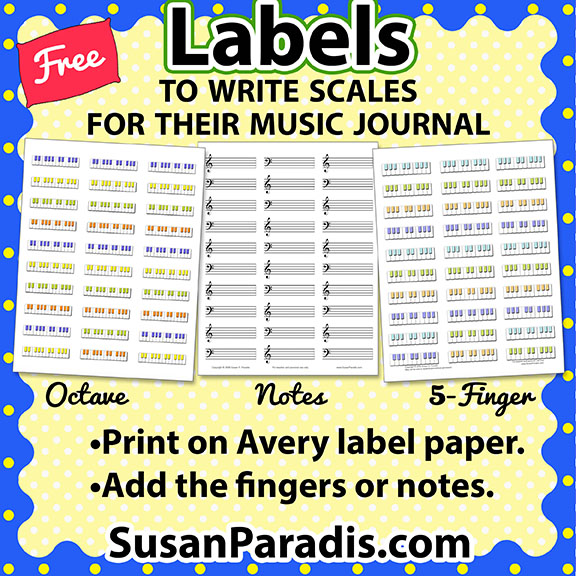 Treble and Bass Staff Labels to write notes on the staff
The other day I was drawing a tiny keyboard on my younger student's assignment book and I had her draw  dots on the correct keys. As we worked together looking for whole and half steps,  I casually said that my drawing was kind of sloppy, and it would be a lot easier to read and more fun if I had some keyboard stickers. So I sat down at my computer and designed some!  Actually they were easy to make because I've been designing my own labels for years and I drew the keyboard about 10 years ago.  You probably recognize it from my pre-reading solos and my picture scales! However, I don't think I've ever seen anything quite like this, so for your whole and half step pleasure, I'm offering  Keyboard Labels.  Please let me know what you think!
Now all I have to do is peel one off and stick it in my student's assignment book. This will give students a  handy reference,  plus it will encourage them to look in their assignment book.
I used Avery White Address labels, product number 8160. These are "easy peel" and believe me, it's worth the little extra you pay to be able to peel them off and reuse on a new assignment page. I printed my labels directly from the PDF I'm posting here and my graphic fit the labels  perfectly, so I hope you have the same luck. In case you can't find this particular Avery product, the label  size is 1″  x  2  5/8″ and there are 30 labels on each page. Before you print on your label sheet, try printing on a regular sheet of paper and hold it up to light to see if it aligns with your particular labels. Be sure your printer setting is on "actual size" and not "fit" or "scale."
SaveSave
Please follow and like us: