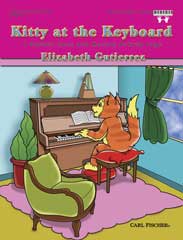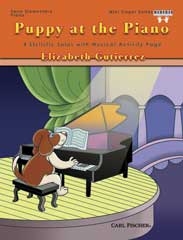 Puppy at the Piano and Kitty at the Keyboard  is a set  of 2 "Mini Finger Suites"  written for  elementary students by Elizabeth Gutierrez and published by the well regarded Carl Fischer music publishing company.  Elizabeth Gutierrez has shown in her other piano solos that she knows what elementary students like and how to write for them. Your students will really enjoy these pieces,  especially if they like dogs or cats.
The first thing you notice about these 2 sheet music suites is the adorable, vibrant,  color covers with student-appealing artwork by Yuru Martinez.  What young child is going to be able to resist the cute kitty playing the piano with his feet on a stool,  or the puppy playing a black grand piano on stage? I want to frame them and put them on my studio wall!  
Each mini-suite includes 4 short pieces with clever titles such as Puppy-Paw Prelude, Wagtime, 🙂  Meow-Meow Minuet, and Tabby Tango.  "Puppy Pointers" and "Kitty Klues" at the end of each piece will help the student develop artistic playing,  which seems to be the goal in these pieces.   There is also a "Kitty Dictionary" and "Doggie Dictionary" on the inside cover of each suite explaining the musical terms used.  I love the definition of a two-note slur: "Drop into the 1st note and lift from the wrist on the 2nd note. The 2nd note should be softer than the 1st. " This is the kind of definition that is simple and easy to understand. Is there a better way to say it?
The mini-pieces in the suites are fun to play, full of musical elements and opportunities for artistic playing.  There are slurs, staccatos, simple crossovers, dynamic contrasts, some hands together,  and, of course  two note slurs.  Some of the pieces are in middle C position, while about half of them are in different positions that are easy to read by intervals. There are a few accidentals. Each piece has a nice teacher duet that is easy to read while you watch your student play.  The melodies are very pretty and just invite artistic playing.
At the end of each suite there is a cleverly drawn  activity page that I wish I had thought of.  The "kitty" suite has  a puzzle and a fill in the blanks section. The "puppy" suite has a "Doggie Notespeller" for the student to name notes to spell  popular dog breeds.
These suites are labeled Early Elementary, most likely because they contain no eighth notes. Each publishing company has its own leveling system.  Often pieces at this level are labeled "Elementary"  by other publishers,  so be careful about giving these to early level students.   You can also use these suites to introduce new concepts,  especially if you don't want to wait until you encounter them in a method book.  I suggest this might be a good set of music to give to a transfer student to work on while you decide exactly what level you want to place the child. At a reasonable $3.95,  parents will not complain. And if you have a student who is not quite ready to go on to the next level, try using these pieces as a review.
Carl Fischer has a long history as a music publishing company, but in the recent past it seemed like they weren't adding to their educational piano music catalog. With these publications and the recent new editions of some of their previously published pieces, I am excited to see the new face of Carl Fischer's teaching music. It's not too late to add these to your spring recital.
Please follow and like us: