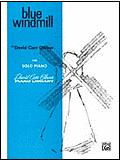 Today I am posting some more sheet music that my students have enjoyed over the years. This post will discuss several late elementary pieces, level 2 in a lot of method books.   These pieces will have eighth notes,  accidentals, and changing positions.  The articulation will be more challenging, often with one hand legato and the other staccato. The pieces I am listing do not have lyrics.
At this level students want to play something that sounds impressive because they been in piano for a while. They are often in 4th or 5th grade and don't want to sound "babyish".  However,  their technical skills are limited. The older students in this level usually tell me they don't want a piece with lyrics.  As a former music ed teacher in elementary school, I know that boys, especially, in about grades 4 and 5 are very embarrassed if their pieces sound babyish. But they will play for others if they think it sounds hard. Sometimes their piano teacher is the last to know, but it was easy for me to figure that out when I would ask students to play for their classmates.
A lot of time when teachers list favorite pieces they list *their* favorite pieces. These are definitely my student's favorite pieces.
March of the Gnomes by Martha Mier is a fun piece.  One time at a convention an Alfred  rep told me this was one of their best selling pieces. This was several years ago, so it might not be true today. This piece is more suited to a  younger student because of the cute gnomes on the front. The measures are nicely spaced and not too small. The left hand plays staccato 5ths throughout, but beware the right hand plays legato at the same time, so this can create problems for some students. Don't give it unless you know your student can do this or he will get very frustrated and it will spoil the fun. I've used this piece up to 9 or 10 years of age.
Camilla the Camel is the companion piece to March of the Gnomes. There is an adorable female camel with long lashes on the cover. This is the same level as the previous piece, but I think the articulation is a little easier. It also has left hand staccato broken fifths and a legato right hand, so you also have to be sure your student can do that.  A lot of accidentals give it an "Arabic" sound that students like. They say it sounds like Aladdin.
Thumper by Robert Vandall is a great piece that most students love. It is very easy, mostly blocked 5ths that move up and down. This is a good pupil saver piece, as it sounds harder than it is. Students of all ages can enjoy this because it has no words and looks grown up.

Trumpet Fanfare by Vandall is the same kind of piece. It is great for older beginners who want to sound more impressive as they learn it partly by rote. Level 2 students can read it but may need a little help changing positions. This is another pupil saver, good for festivals and recitals. One older beginner learned it to play for her Grandfather's birthday. Yet younger students like it, too. I've never hand anyone who doesn't like it. Like Thumper, this was originally published by Myklas and had a very plain cover. Alfred has republished it with a spiffy color cover.  
Somersaults by Vandal is a new piece that my students love. The hands move around and there are a lot of fun staccatos. My students get high ratings when they play this piece at festivals. It's not hard and students pick it out over other pieces when I play if for them.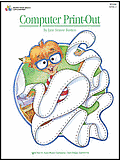 Computer Print Out by Jane Bastien is an older piece, but not real old (in my terms) with a cute cover. There is a smiling boy on the front with big glasses. The dot matrix print out on the picture is a little out-dated, but it's fun to discuss the "old day's of computing" with your students. It is an easy, fun piece, with great rhythmic energy. It is not technically difficult and makes a good recital piece for elementary boys. Some coordination is involved. Boys especially love this piece and I tend to give it to them because of the boy on the front, but girls like it, too. My daughter once told me not to give all the fun pieces to the boys and the (what she called) dull pieces to her.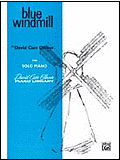 Blue Windmills by the wonderful, late David Glover is sometimes labeled an elementary  level piece and for an older student it may be, but I consider it late elementary.  This piece was written in 1969 so I can officially call it older than I've been teaching, but just barely!
The only problem is the use of legato pedaling, which older students can master for this piece, or you can adjust the pedaling to help the student out.  It really needs pedal! This is a very pretty waltz-like piece that I have never had a student not like, especially girls. It sounds more difficult than it is and makes a great recital piece. The lower register notes with pedal and arpeggios divided between the hands create a full sound that just impresses everyone at this level! Get this piece, if you've never used it before. It is a classic.
  A  jazzy piece that I use for young students who say they like jazz is Jazz Pizazz by Nancy Faber. A few measure have to be taught by rote, usually, but the rest the student can easily handle if he is in the last part of a level 2 method book. This is a fun, fast moving piece that is an audience favorite. It goes will with Book 2B of Piano Adventures.
Land of Dreams by Nancy Faber is for that dreamy, expressive child who wants to take his time and reflect. Also, anyone in Piano Adventures 2B can play it without difficulty. It's a pretty piece and if a student at this level says they want something slow, I give them this piece. You can preview the first page of this piece in several places on the web.

Rhythm Machine by the late Lynn Freeman Olson is another golden oldie. You can buy this as a sheet or in a collection. It's hard to find sometimes because it is published by Fisher. Everyone loves this piece. The rhythmic, syncopated chords appeal to all and sound harder than they are. It moves around the keyboard. I think it was a ground-breaking piece, in a style which has influenced a lot of pieces in the same vein. I know it certainly influenced me to try composition in this style.
 Speed Zone by Robert Vandal is a fun piece every student loves. The Myklas cover was the no nonsense kind which made it good for older students. I hope Alfred keeps it in print. The hands stay in five-finger positions as it moves around with a syncopated rhythmic pattern. This is more challenging than the Vandall pieces at the beginning and does require some speed and flair.

 Spirit of the Stallion by Gutierriz is a fun, easy to learn piece that everyone likes, especially good for students who like pieces that are exciting and move around.  I like pieces like this so I give them a lot. This is a NFMC chosen piece, and for good reason. This is not too difficult, so it might be a perfect pupil saver piece.
 I have only touched the surface of pieces at this level, of course. There are many more and in fact, your students may have some favorites you would like to add.  I'll just remind you that your students my have different tastes than mine,  so preview before you buy.
Please follow and like us: