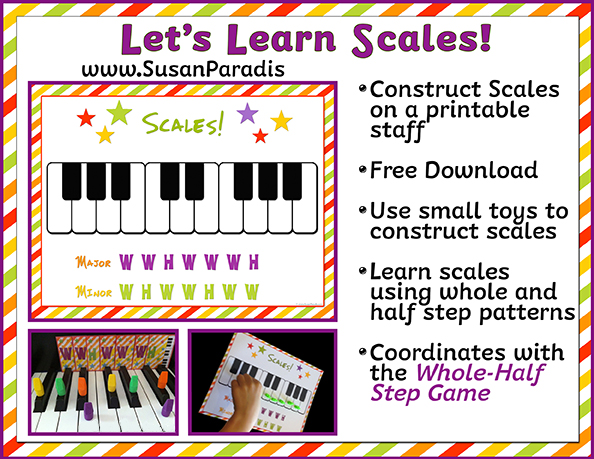 Printable Keyboard (for Scales F-B)
Last year I posted a game, the Whole Half Step Game, that I developed to construct scales on the piano keyboard. Recently, I made a paper keyboard using the same colors as the game so it will be a set. Students often have trouble transferring knowledge from one skill to another similar skill. I'm sure you've noticed that in your teaching. This paper keyboard is big enough so that students can use manipulatives on it to construct scales. At the bottom is the whole half step pattern for major and minor scales, as a reference.  
I'm sure you creative teachers can think of a game to go along with this printable. Please share if you do!
Before you use either of these materials, be sure they understand the difference in a whole and half step.
As a bonus, this keyboard is so large that it works well on the iPad!
So what comes first, a paper keyboard or a real keyboard? Generally, a real keyboard works best for most children. They need to go from concrete to abstract. However, some children benefit from getting away from the piano. All of us learn differently, so a multi-sensory approach is a good thing. If they don't get it one way, try another! It's worth remembering that when they do theory worksheets, they will not have a real keyboard, so they need to learn how to transfer information.
By the way, the Whole Step Half Step Game, which I posted about a year ago, is an excellent game to teach scales.  It's colorful and fun, and it really teaches the concept of how to construct a scale. I know my directions seem hard to understand, but give it a try, because it's really very easy.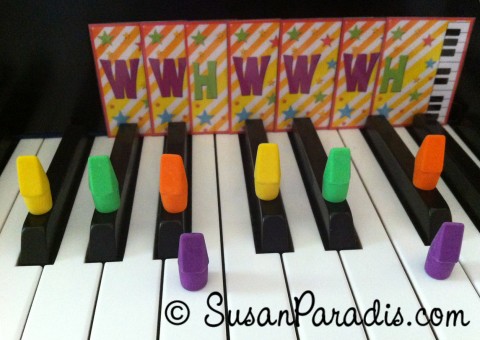 Please follow and like us: