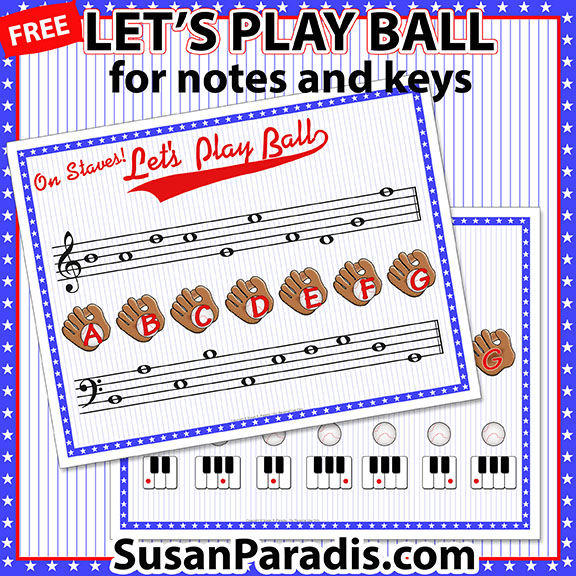 I made the Let's Play Ball worksheet a few years ago for a student who loved baseball. The original one I posted was for piano keys only, and while I actually tried to make a staff version at the same time, I found it almost finished, abandoned and forgotten in my computer files. I finished it up because I have a student who just tried out and made a new baseball team and I thought he would enjoy this way of reinforcing note names. The instructions are to draw lines to connect the notes or keys to the alphabet letters.
These worksheets use some ink, which is why I like to use my iPad for handout like this. They both work really well on an iPad because all the student has to do is draw lines to connect the alphabet letter to the note on the staff or the piano key. Another ink saver is to make one copy and put it in a sheet protector and then use dry or wet eraser markers. I like the sheet protector idea because they are easy to store in binder.
I want to mention to my long-time followers that I have been trying to get all my material listed in a way to make it easier to find.
If you select the Free tab at the top a new page will open.  Click on Newer Free Resources and scroll down to select the type of items you want.
I have finished moving all my old games to the "Game" page. There might be some floating around somewhere that I'm trying to find and add. Most of the holiday pages, except for holiday sheet music, is finished so you should be able to see almost all of the Valentine and St. Patrick's day material.
 Now I'm working on the "Worksheet" page and I think it will take me a long time. Eventually I hope to get all the music and teaching aids from the old site moved over. If you find a broken link, please let me know so I can fix it.
When a site has as much material as this one, it can be hard to find things. What I do is a Google search such as: Susan Paradis fly flash cards. Google seems to do a better job than the search engine on my blog! I also have a Pinterest page where there are boards for all my material.
Please follow and like us: