Today I want to share MetaMoji Note Lite (also known as Note Anytime). This PDF annotator is a snap to use and it has versions for the iPad, Kindle Fire, Windows, and Android tablets. On the MetaMoji site there is a list of the features that are in each version.
This app is great for anyone who wants to draw on a document, photo, or blank page. I particularly like how easy it is to open a PDF document in a lesson.
This tutorial is for the free iPad version.  [Disclosure: I received no  compensation for this review, I was not furnished the app, I have not communicated with the company, and these are my personal opinions.]
1. Download the app from iTunes on your iPad. You can also download it to your iPhone.
2. On today's post, select this PDF file, Let's Draw a Treble Clef, and open it on your iPad or iPhone.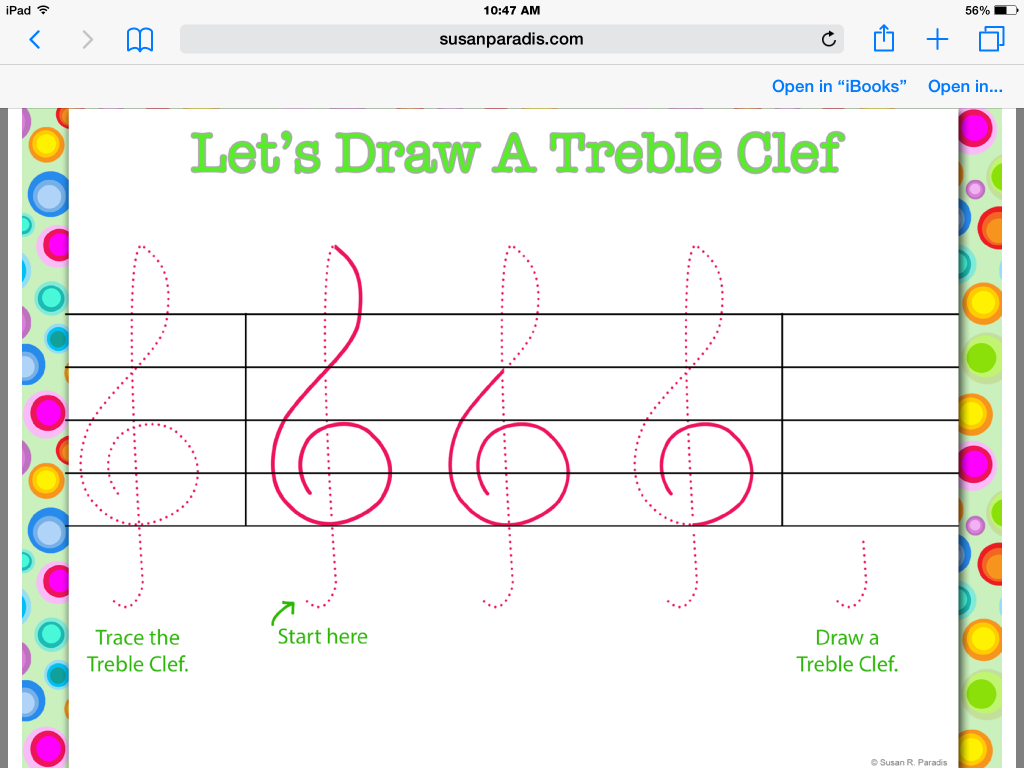 3. At the top right corner there will appear the words "Open in iBooks" and beside that, there will be the words "Open In…"
Select  "Open In" and below that a tab will open up icons of all the apps on your iPad that can open PDF documents. Remember, just because your iPad lists all the apps that will open a PDF for you to read, it doesn't mean that you can also write on the PDF. Scroll across until you get to the one that says "Open in Note" and select it.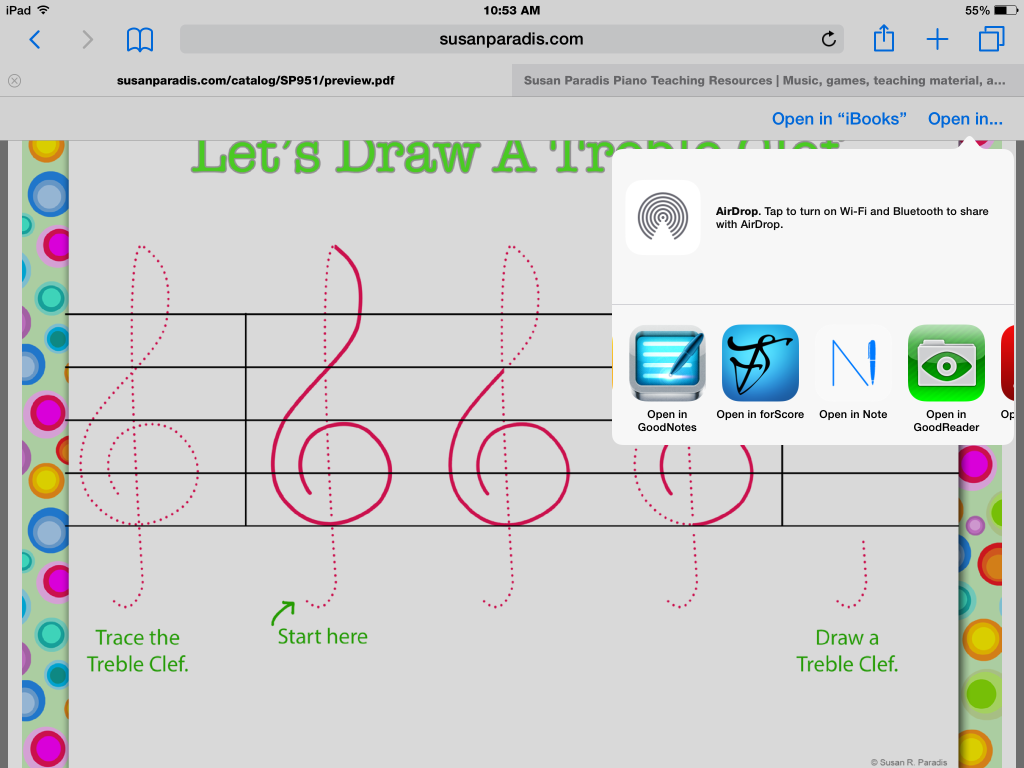 4. Now you will see a window that says "Import".  Select "As New Note" and then select "Done". The graphic below shows my PDF opened in MetaMoji Note Lite. Use the pinch gesture to drag the worksheet to make it larger.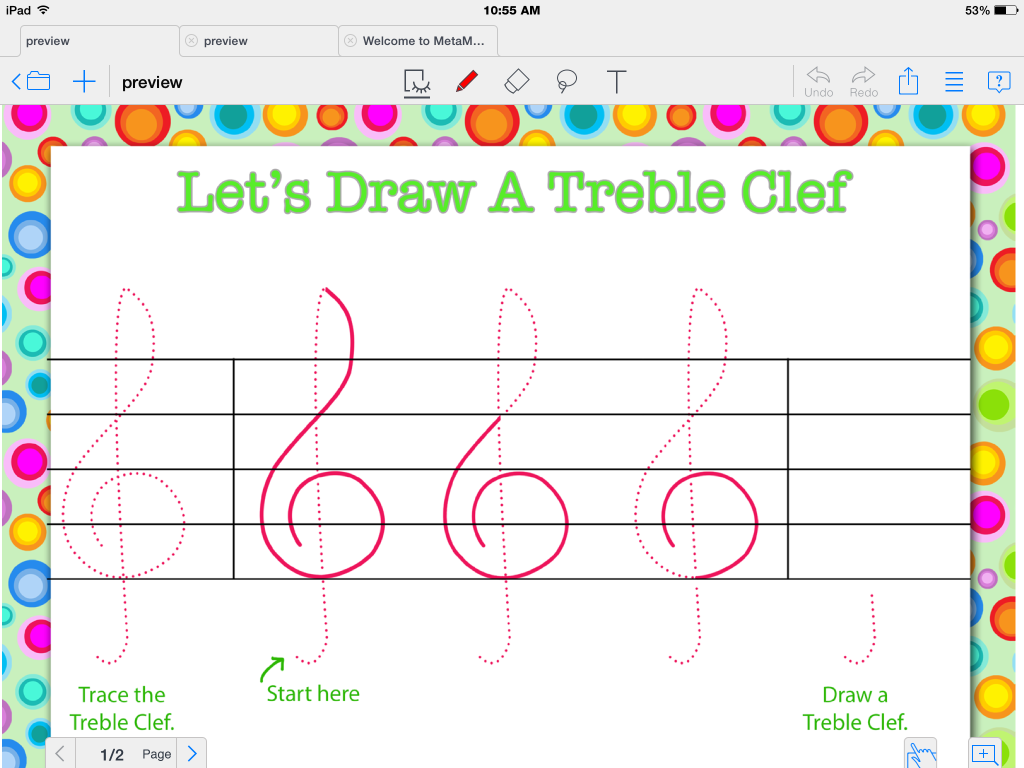 5. At the top you will see an icon that looks like a pencil. Select it and the lines that appear are the pen settings for the lines you will draw with your stylus or finger. Select one and hold it. Another small window will open and you can choose the color and thickness of your line. I chose the calligraphy pen with the two-tone color. Select "done". Below you can see the lines I drew with the calligraphy pen using different colors.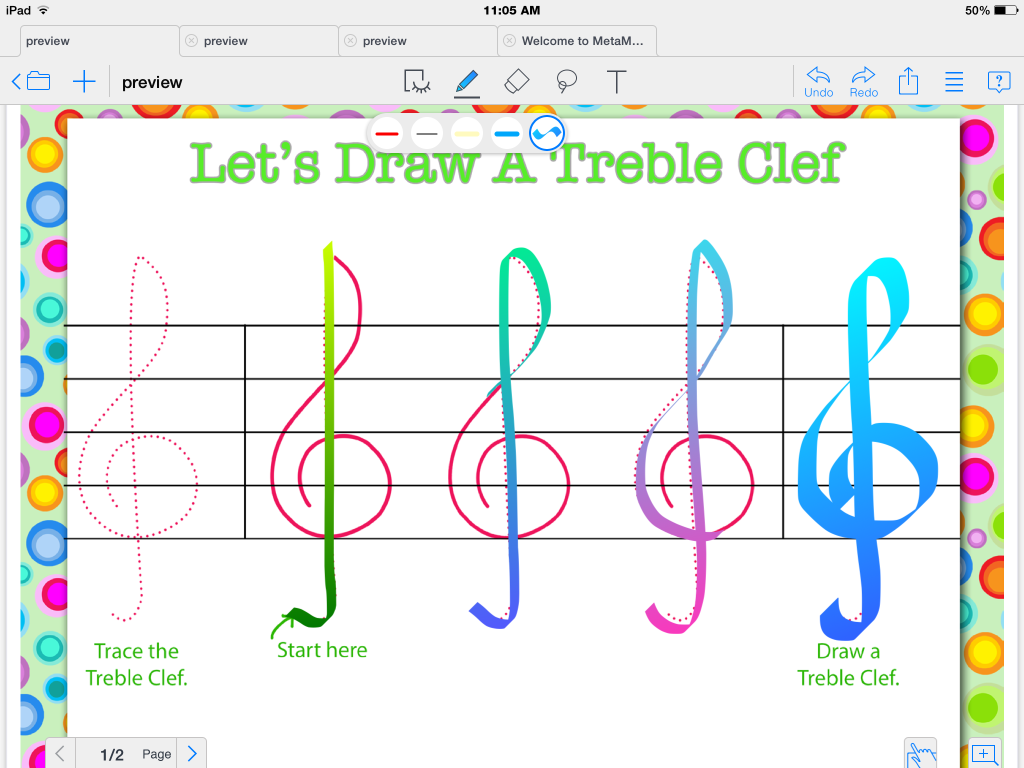 Now you are ready for your student to write on the worksheet!
When you finish, you can select the box with the arrow pointing up to see ways you can save this PDF. I usually don't save my student's work, but I do save the PDF to use again with another student. To see your saved PDF's, select the folder in the top left of the tool bar.
Another great thing about this app is that you can open multi page PDF documents. There are not too many free PDF annotators that will do that.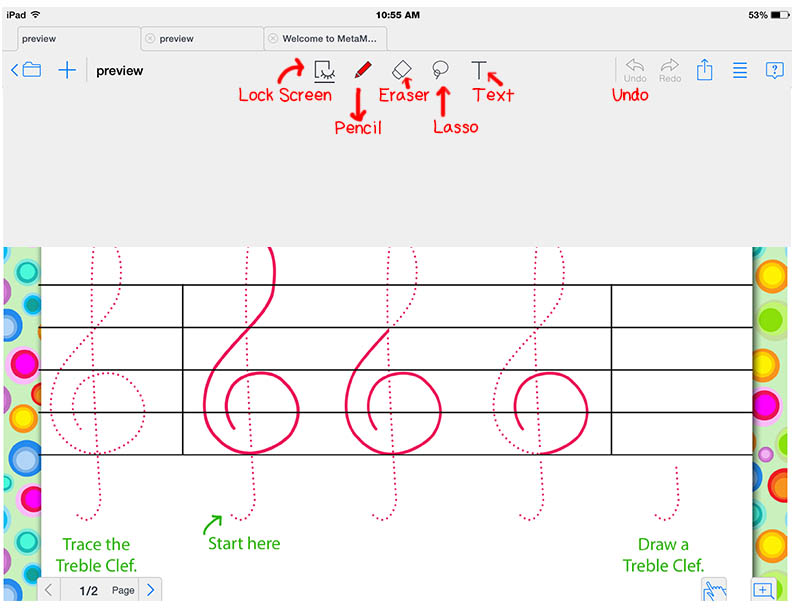 In the graphic above, I have labeled the tool bar, but it is really simple to use. The screen lock keeps the PDF from being written on. If you have an impulsive student who wants to start writing before you have explained something, keep the screen locked. The pencil tool is  for drawing and writing by hand. The eraser will erase all of your markings, but will not erase the original PDF. The lasso tool allows you to select something you have drawn and move it around the screen. This comes in handy if you have a PDF of a music staff  and you want to draw a note and move it around the screen. Your PDF will remain unchanged. The undo button will clear your PDF so you can use it again.
If you want a white board to write on without a PDF, select the save tool on the top left, and open a blank document. Then you can practice drawing any musical symbol without using paper. Click the + tool to see some pre-made art you can select. I used the heart icon on a blank staff as a note, and we moved it around naming the "note."
What a PDF annotator will not do is allow you to cut and paste the original PDF.
There is a wrist guard on the bottom right of the screen that keep students from making accidental markings with their wrists. Simply grab it from the corner to enlarge it or flip it around.
This app has many other features that I am not going into. There are even more extra features in the paid version. At their website, you can view several short video tutorials to get started. I found this app so easy that I didn't need the help features, but if you can get all kinds of support at their website. And you can always ask your students for help because they always seem to know how to use anything on the iPad!
Please follow and like us: