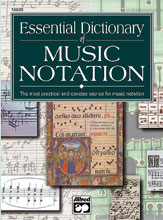 When your students start to compose music on their own, they will need a reference book to answer  tricky questions such as in a 3/4 meter measure with one quarter note, do you use 2 quarter rests or one half rest.   Students need to learn the importance of notating music in the conventional way so that it is easy for the music reader. The book I recommend is Essential Dictionary of Music Notation by Tom Gerou and Linda Lusk, published by Alfred in 1996. It  is a very tiny paperback, about 4″ by 5″ in size, full of illustrations and examples. It also has a very tiny price, $6.95,  making it  affordable for students.  This is really an excellent book, as good or better than some of the more expensive textbooks I have seen, especially for writing piano music.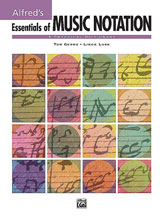 However there is a new book on the block,  Essentials of Music Notation. This book has a similar title and is by the same authors, Tom Gerou and Linda Lusk, and is also published by Alfred. I expect there is going to be some confusion when I suggest one of these books to students and teachers. Essentials of Music Notation is very new, published in March 2009. It is a larger 80 page paperback, 9″ by 12″, and is more comprehensive. Everything you need to know about music notation is in the book and it is still a very affordable $11.95. This new book has an interesting format, two columns on a page, and is also full of  excellent illustrations and examples.  It is quite easy to understand and easy to look up questions, even for a beginning composer. I highly recommend this book to teachers and students who want or need a book with more depth than the Dictionary of Music Notation above.  You really can't go wrong with either of them. If you want to look inside the book,  do a search in Amazon and you can see that it will answer all your music notation questions.  As soon as I saw it was available, I added it to my collection. Also, since it is larger, maybe it won't get lost on my desk!
Thanks to Alfred Publishing for making these books  available at such a reasonable price!
Please follow and like us: