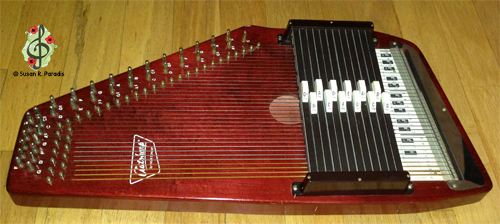 Not too long ago I got the idea in my head that an autoharp would be perfect to get my students enthused about reading lead sheets and learning chords. When I was about 10 years old our classroom teacher would sometimes let a few of us stay after school and play on an old autoharp. That is where I think I learned about primary chords and a lot of music theory that I didn't learn in piano lessons. It made learning the guitar and playing lead sheets a lot easier for me.
I started checking on eBay to see if I could afford a used one. I know something about autoharps because I used them when I taught elementary music education.  Every time I started at a new school I would get out the dusty autoharp and tune it up.
For several weeks my husband and I checked eBay often. I didn't want to spend much, $35.00 tops. I wanted a name brand autoharp in case I needed to buy some parts, one  with all the strings, and a hard case. I figured I could tell by the descriptions if they were playable, but we knew we were taking a chance.
I bought a 20-year-old Oscar Schmidt because you can still get parts for this brand. It was out of tune and a few of the strings are pitchy. But it sounds fine, at least for a $35.00 autoharp. For comparison, on Amazon you can see the cost of a new Oscar Schmidt 15 chord autoharp, so I saved a lot of money buying an old one. It did not come with a tuning wrench, but I picked up one at my local music store for about $6.00. You can also order one from Amazon. I have to tune it more than I want to because it has been so long since it was tuned. Every time I tune it, it stays in tune longer, so I have hope for it. Right now I don't want to invest in a new set of strings, which will cost more than the autoharp! If you think you might want to buy a used one, be sure you are comfortable with how to tune it, and don't pay too much! If you can tune a guitar, you can tune an autoharp. It just takes longer.
I made some song charts for my students with easy chords and used it with all ages at my last set of group lessons. The songs had one, two, or three chords, depending on the age of the group. One of my goals with older students was to bridge the gap between playing I IV V7  and C F G7. The students and I had a lot of fun, and I think they learned a lot. What was amazing to me is that my students had never seen one before. I guess they aren't used in school music programs any more! 
Now I wonder if I can arrange some music for autoharp and piano! Would that sound weird?
Please follow and like us: