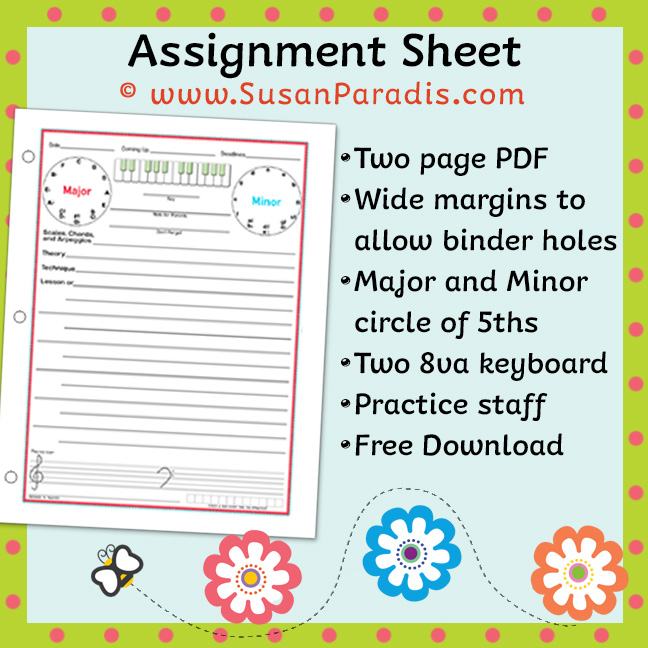 I made a new assignment page (assignment sheet) and I'm going to share with you why I revised my old one, which had also been revised.  I have an assignment sheet for my younger students with ladybugs and lots of color, and they love it. But when they progress and it's time for one with more detail, all I had was a very serviceable, but boring looking black and white page. So I decided to upgrade the old one, but keep everything I like. I still use my early childhood assignment sheet for my little ones, but now when they are "promoted" it doesn't look so intimidating to them.
I included all the bells and whistles that made my original assignment page so unusual when I first posted it. Here are all the features:
Print in color or grayscale (black and white)
Upcoming events line
Deadline to memorize a special piece
Separate major and minor circle of fifths
Keyboard to write scale names and fingering
Line for labeling the scale
Line for a note to parents
Do not forget line
Line to write scales, chords, or arpeggios
Theory, technique, and lesson book assignment lines
Blank staff with treble and bass clef written in
Two weeks worth of practice time check off boxes
Line for a message to the teacher
I didn't say anything when I tried this out with my students. But the reaction was everything I hoped because they really liked it! Several mentioned that it was a lot easier to understood the major and minor circle of 5ths. They like the fact that it is in color, even though there is not much.  I tried to design a graphic that looks like it uses more color ink than it really does.
I made this as a 2 page printable, but both pages are the same.  This is because I have a duplex (prints on both sides) printer.  I select "2-sided printing" in my printer dialog box, and the number of copies I need. The printer automatically prints on both sides. That is a very nice feature if you are in the market for a new printer. I punch holes on both sides of the paper and every other week I give them a new page. Not only does it save paper, but it saves space in their binder!  If you only want to print  on one side, use these settings, and under "Copies" select the number you want to print. The arrow pointing to "1" indicates that you are printing page 1 of my printable. Then you can reinsert your pages to print on the back, if you wish, following the same instructions. (Your dialog box might look  different than mine, but I hope this will give you the idea.)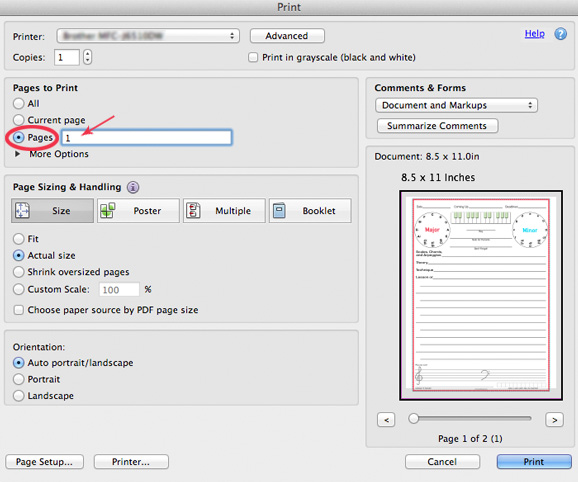 Please follow and like us: