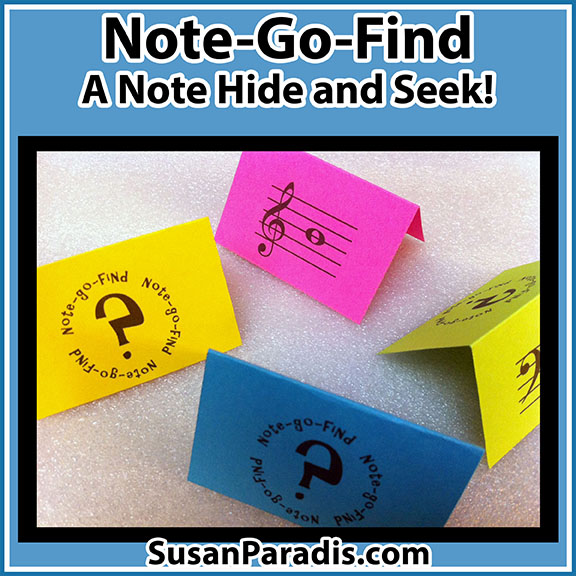 I designed this game for my youngest age group, because they told me Quarter Note Hunt  was their favorite group lesson game. It is also a quick game at an individual lesson.
This black and white printable looks great printed on different colored cardstock. After printing both sides and cutting them out, score each card in the middle and fold like a tent card. It is better if you do not laminate it, because that makes it hard to fold.  If you're worried about smearing, spray it with a fixative.  A few of my cards did get a little smeared, but it only slightly.
Hide the cards around the room. Now you can play several different games:
Play it like a scavenger hunt. Give students a list of the notes they should look for. I made a list for every student, and each one was  different.  There was a check off box on the sheet. If a student finished, I asked him to help a younger student.
Give each student one specific note to look for. This way a beginner can look for an easy note he knows, such as middle C.
Play it at an individual lesson when you introduce a new note. After introducing E, for example, tell the student to find all the E's you have placed around the room.  Since there are other notes hidden as well, the student quickly learns that E is on the first line. There is nothing like a game to learn notes. It is much more effective than flash cards!
Use the blank card for you or a special student to draw and hide a challenge card.
If you have a student who doesn't know the notes yet or has learning disabilities,  make up an answer sheet or give him some flash cards with the names on the back.  It might be good to have something on hand in case you see a student struggling in a group situation.
I found that I can't hide the cards too well. They have to be easy to find!
If you use this game in a creative way, consider leaving a comment here so we can share with other teachers.
Please follow and like us: