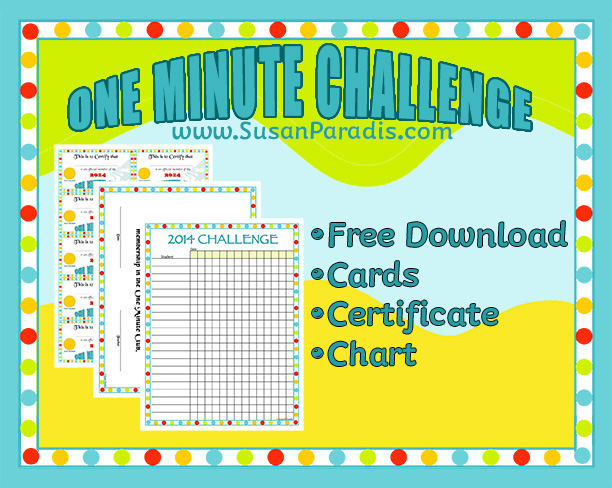 One Minute Challenge 2014
Jane Bastien,  composer, method book author,  and piano pedagogy expert talked about an idea that I use with my piano students. This post explains how I do it. 

I thought up the idea of a different card each year when I noticed my elementary students liked to collect cards and put things in scrapbooks. You can watch a video here of my students saying and playing flash cards.  If you need little mini cards, click here for mini grand staff cards and here for mini ledger line cards. If you use different color card stock for each level, it makes it easier.
Teachers who do this each year have their own way of doing things. Some tell me they have different sets of cards for each level. Some use less cards for younger students and more cards for high school students.
Included in this year's PDF file is the set of "membership cards" that are made to be printed on pre-perforated business card stock, a large certificate for those of you who like to give out certificates at your recital, and a chart to post each student's time, as they try each week to improve.
Since I've written at length about this over the years, here are some frequently asked questions from the past.
What is the One Minute Challenge?
This is a way for students to learn to say and play notes on the grand staff. If they can do it in 60 seconds or less, they get this membership card. Once a student is the fastest in my studio, they win a gift card (my students like iTunes or restaurant cards) and "retire."  This is something that my students look forward to each year.
What is the age of students who participate?
I made the cards for children about age 8 to 11, but most my older students participate in the contest, unless they were the overall fastest in a previous year.  In my studio, it takes several years of lessons before a student can do this in less than one minute. Only a few students in grades 3  can do the entire grand staff, so I don't try that with younger students. This year, I am going to try something different and use just the 9 cards around middle C for my K-grade 3 students. They asked to join in the fun, so we've been preparing all year. Use your judgement as a teacher.
How many flash cards do you use?
I use 21 cards, the entire grand staff from bass G to treble F. As I said above, this year I am trying something different. 
What do they do with the cards?
I give my elementary age students a plastic badge holder with a chain and attach it to their music bag. I ask middle school students if they want one. Some teachers post them on the wall.
Why do they have to play the note as well as say it? Isn't it enough to know the name of the note?
Piano students need to know where to quickly move their hands when they see a note that is not in a five-finger position. This is not a cure for students who can't sight read because they have difficulty tracking notes on the staff and/or other problems that often seem insurmountable. However, for average students, I notice sight reading skills improve as they learn where to move their hands. Good sight readers do not think of individual notes as they play, but in patterns of intervals. This is just one part of the difficult skill of sight-reading.
How much time do you spend on this at a lesson?
I run the challenge for about 2 months. I don't think a lot of time should be spent on this. Just a couple of minutes each week can reap great rewards if the student is prepared in the first place. If students take over 2 minutes, I usually need to prepare them better before I start timing. Often the problem is simply developmental. Students need to learn gradually and in a child-centered manner. That takes time and patience on the teacher's part. Before you start flash cards, use a lot of activities and games to learn the note names. There are many free resources on my website and other sites in the links on this blog. Don't let this turn into drudgery!
I gave up on this because my students don't like flash cards. Do you have any suggestions?
Some teachers can make this fun and some can't. If you still want to try, make sure they are old enough, know all their notes, and have the potential to be successful. Do a lot of note naming activities before you start. Prepare them well. Realize that not everyone in your studio has to participate.  There are many pages of note naming resources on my website and other websites. If your student has a learning disability, tread very carefully. Not every idea works with every student. I have had students who freeze up when they are being timed, especially if they are older beginners.
These cards are not centered correctly when I print them out on my blank business cards. What am I doing wrong?  
When you print the PDF file, under "size options" select "actual size." You need the latest update to Adobe Reader for it to print correctly. This is a free download you can get at the Adobe Reader website.
Please follow and like us: