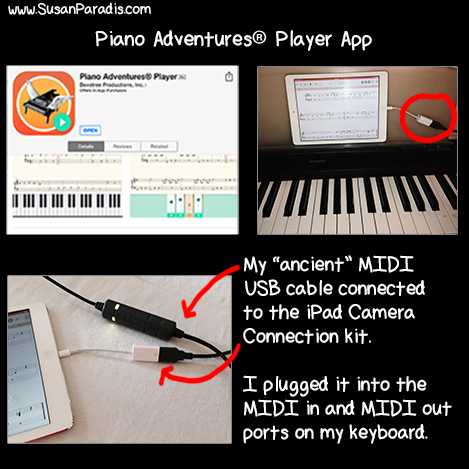 During TMTA Elizabeth Gutierrez announced that the Fabers have a new iPad and iPhone app, Piano Adventures Player, to go along with their piano method, Piano Adventures. This is a free app, with in-app purchases for more music. [Disclosure: I am not associated with Piano Adventures and I was not compensated in any way for this review. The opinions are my own.]
This purpose of Piano Adventures Player is for students to play pieces from the Piano Adventures method books with high quality musical accompaniments. The accompaniments are lots of fun to play along with.
When you open the app, on the top of the left hand side there is a menu where you can select an individual level of Piano Adventures. So far, there are 4 levels in the app. Each level includes 3 free pieces from the book.
Once you are in a level, select the tab "Get More Songs" and you are taken to a page where there is a $4.99 in-app purchase for the accompaniment tracks for the Method, Performance, and Technique books of that level.
Piano Adventures Player is easy to use with your acoustic piano. Select your level, set the tempo, and start playing along with the accompaniments. I like the visual representation of the count-off so you know exactly when to come in. You do not need any other equipment but a good set of speakers is nice.
If you have a MIDI keyboard or piano, there are 2 other ways to play along with the accompaniments:
In the Follow Mode, the accompaniment will follow along with the student's tempo.
In the Wait Mode, the accompaniment will wait until the student plays the correct notes.
In order to connect your iPad to a digital piano/keyboard, you will need Apple's iPad Camera Connection Kit. I connected mine with my old MIDI In and MIDI Out cable with a USB plug on one end. If you are new to this, I do not advise you to buy these cables without someone to help you.  Also, there are different iPad camera connection kits, and you need to know which one your iPad uses before you buy.
There are more features in this app, such as the ability to set loops, adjust balance, parts, and a keyboard view with light up keys. I've probably left something off!
Piano Adventures Player is a wonderful addition to piano pedagogy. I hope that more methods will consider this approach to accompaniments, now that CD's are becoming obsolete.
For more information about this app, go to http://pianoadventures.com/player/
If you're in San Antonio this weekend, June 27, 2015, come to Elizabeth Gutierrez' Piano Camp for Piano Teachers. Elizabeth has some great sessions planned, and I am presenting a session that will walk you through how to use this app and a lot of other good ones.
Please follow and like us: