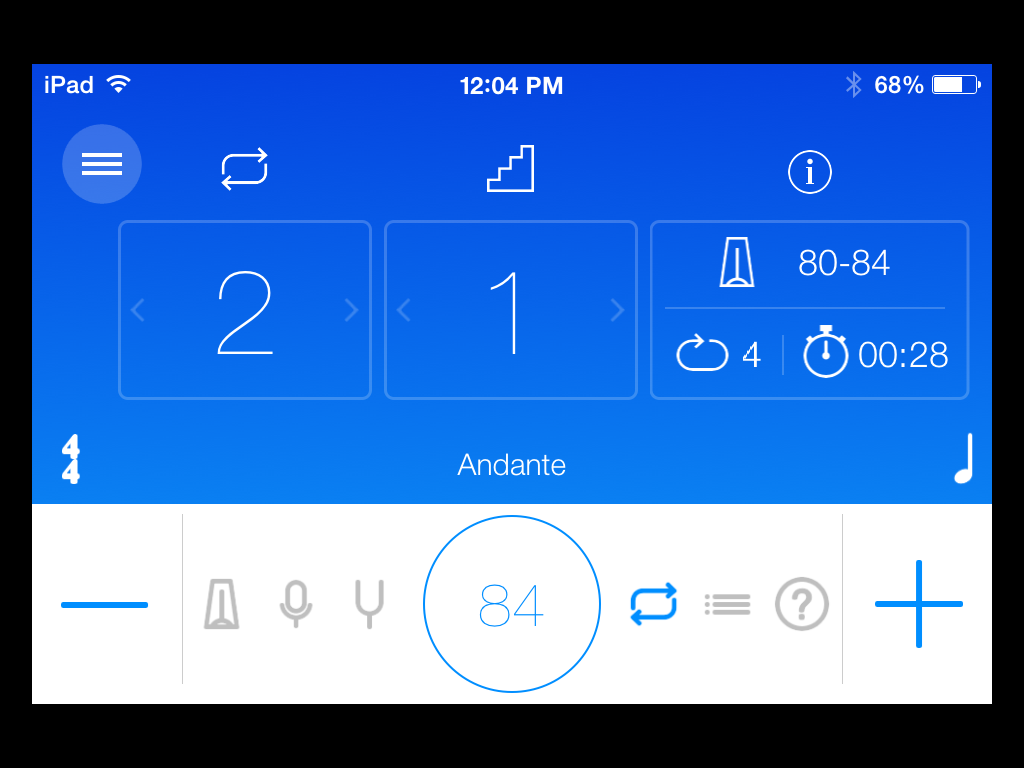 It's been a while since I have heard from the folks at Dynamic App Design, who made Metronome Plus, my favorite iPhone and iPad metronome app. Well,  they sent me this great new app that has just been released and now I have a new favorite. I found it easy to use, with music teachers and students in mind.
Let's face it, I don't have a lot of time at a lesson to fiddle around with an app, trying to remember how it works. Maybe if I were a 5th grader it would be easier.
Practice+ is a music practice app for musicians, teachers, and students.  All the fine features of Metronome Plus are here, but much more has been added.
Here is the exciting part that is such a helpful practice tool. Let's say I have a tricky spot I want to speed up gradually. Usually I have to set my metronome, play it, go back to the metronome, reset it, and play again.
Now, I can set the metronome to the number of measures I want to practice and to increase the tempo after each play-through.
I tried this out with a section of music I am working on.  First, I set the starting metronome tempo to 80. Then in the top left box, I set the measure numbers to 2. In the middle box, I set the number of clicks I wanted the metronome to increase after each play-through loop.  The first time it was 80, the second it was 81, etc. I could have set it to increase more after each loop.
The box on the right shows how many times you have played the loop and what tempo range you used. The metronome speed is easily changed using the big plus and minus signs on each side of the metronome.
The loop practice feature really raises a metronome app to an entire new level!
Another extra is the recording feature. A teacher can record a tricky passage and email it to the student.
It also has a tuner, which will come in handy for piano students who play a band or orchestral instrument.
This app is $3.99 in the app store. Trust me, (having observed someone develop an app), it takes months to write the code for an app, and I think the price is very reasonable.
Today, I am happy to be able to give away this great new app to 3 lucky winners! [The contest is over!]
To enter the giveaway, please leave a comment below by Saturday, August 23, at midnight CST. The winners will receive a code to redeem the app from the Apple iTune store. I will email the code to the winners after the deadline. Be sure you are using a valid email address when you comment.
This app requires iOS 7.0 or later. It is compatible only with the iPhone, iPad, and iPod Touch. If you're not sure what iOS version you are using, go into Settings>General>About>Version.
Comments are moderated, so your comment will not show up immediately.
Please follow and like us: