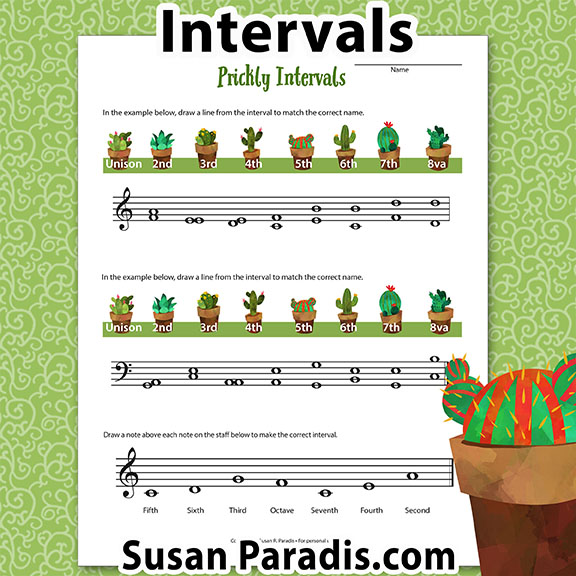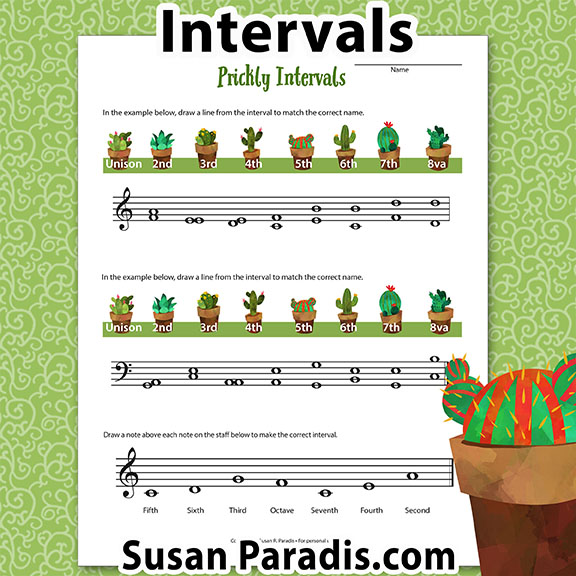 A few months ago when we were studying for the theory test, I went looking for some interval worksheets on my site, and I couldn't find very many that didn't have a holiday theme. I have no clue what happened to all the ones I thought I had posted, so I'm going to make a few and add them to my site.
The new one I'm posting today is called Prickly Intervals. I was inspired by all the blooming cacti I recently saw in a friend's house, and decided it would be fun to make a worksheet with some flowering cacti as a theme. I've always thought they are amazing plants. For one thing, according to an online dictionary, there are three acceptable plurals for the word cactus: cacti, cactuses, and cactus. Is English a great language or what? (Answer: Yes, if you're a native speaker!) When you come to my website, you are going to get bits of trivia whether you want it or not!
The Prickly Intervals worksheet is a little more difficult than Interval Stars below, which I  posted a few years ago for beginners. Feel free to use this one for your first interval worksheet. Interval Stars explains how to count intervals in a very easy way.
Today's worksheet, Prickly Intervals, will be easier if they can do Interval Stars. Not only does it include octaves, but it has unisons. A few years ago, for the first time I can remember, unisons were included on the theory test my students take. It's in the syllabus, so it was fair game to be included on the test, and there it was, in black and white: UNISON. I've always mentioned it, saying something like, "Don't forget, if the interval is the same note, we call it unison, not a first!" But of course you can't just mention things to students and assume they are going to remember. It just whooshes right over their heads. So I decided to include it on my worksheet, to give them some practice for when the prickly unison word is on the test again!
Please follow and like us: