Description
Animal Alphabet Songs are a set of seven one-page mini-songs with duets written to introduce beginners to the notes on the staff. If you teach young children, you know how difficult it can be to introduce notes on the staff. These Animal Alphabet Songs give you an easy way to introduce seven notes around middle C in a slow and methodical method. Each song, from A below middle C to G above middle C feature only one note with appealing teacher duets to make the music more interesting. (Pat the Cat does not include a duet so that the teacher can perform the motions with the student.) Also included free in this bundle are the very popular Search and Find worksheets using the same 7 notes and animals as in the songs.
Use these for learning a note a week!
The engaging words and child-friendly art make these perfect to introduce notes or reinforce notes for your elementary students. They can be used after pre-reading or by teachers who skip pre-reading and go directly to notes on the staff. These songs include notes that students may have not learned yet. I suggest you teach unknown notes by rote or simply by playing "stepping" fingers and do not worry about naming the unknown notes. Concentrate on learning to identify only the featured note on the staff. Not thinking the name of each note will help students to think beyond "typing" notes and will help them play musically.
Use the printable Animal Alphabet keys [sold separately • click here] to cover the featured note everywhere it is found on the keyboard.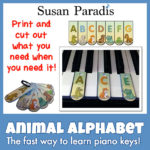 Animal Alphabet sold separately
Fingering boxes are in the score so that teachers may add fingerings appropriate to the method they use.
Click below to listen 
• Alligator, Alligator, All You Play Is A
• The Baseball Bear
Your beginners will love the Animal Alphabet Songs!
This bundle includes:
• Alligator, Alligator All You Play is A – Can Alligators play more notes than A?
• The Baseball Bear – They will remember B if it's a baseball on the top space!
• Pat the Cat – Students remember middle C by doing some hand motions between playing middle C.
• The Doughnut Mystery – Did a dog eat the doughnuts?! Maybe it did in the cute song.
• Elephants Are Eating – The big elephant is eating everything in sight!
• Frogs in Flip Flops – Students won't forget F if they remember Frogs in Flip Flops!
• G is for Giraffe – The tall giraffe teaches the note G.
• Bonus. 7 Search and Find worksheets using the same notes as the songs. 
This is a studio license, so a single teacher can make unlimited copies for years fun!
Animal Alphabet Songs is a seven page set of PRINTABLE PDF files you may print yourself or take to a print shop. There is also a bonus set of worksheets from the website for your convenience. They are made to be printed on 8.5″ x 11″ paper. Please note that this listing does not include a physical item. 
SET UP AN ACCOUNT AND THE LINKS WILL AUTOMATICALLY BE THERE FOR YOU!
After you order, your files will be in your account. Once you have downloaded and saved your file, you may print it yourself or use a print shop of your choice.  If you have trouble with the download, check your email address, your spam & trash folder, and then contact me. Double-check the email you use as well as your PayPal account email so your link will be sent to the correct address. There are no returns or exchanges on digital products, but I will work with you if you have trouble with the download. If you do not receive your files soon after you place your order, check your trash/spam folder and the email address you used. Contact me if you can't find your files!
Please follow and like us: