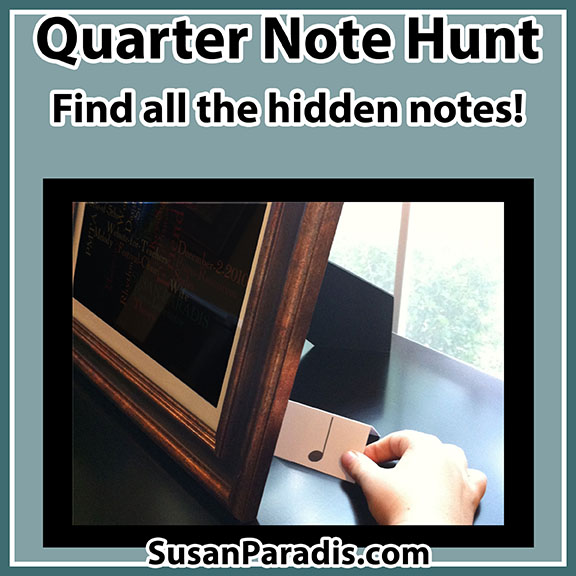 Cecilly has a new game called Quarter Note Hunt and I'm posting the directions today. This is such a simple activity and so easy to prepare, that it will be easy to play at a lesson.  It might be good to have this activity ready when lessons start to drag a little. Boys, especially, need to move around some.
The picture above is a set of cards  to go with her game  in case you would like to print them out.   I hope these cards are  what Cecilly had in mind.  It will also be very easy to just  cut up index cards and draw them yourself.
This game can be played with any rhythm value, but the following directions are for quarter and half notes. I went ahead and put in some other note values on my cards, too,  in case you want to play it when they have learned more notes.   Here is the game in her words:
Quarter Note Hunt
Materials: Timer, a basket, and several small cards folded in half with a quarter note drawn on the outside (vary the stem direction)and 1 short dash drawn on the inside. The card is to sit with the open ended side down and the folded side up (like a triangle). The note is on the side facing toward you and the dash on the inside so when the card is flipped up, the dash is revealed.  Also, make several half notes.
Set up: Place the cards all over the room where they can be easily seen, mixing up quarters and halves. I have mine on the floor, on the shelves, on my desk, in the corner of the piano keyboard, on my table, etc.
Objective: to retrieve all of the quarter notes in the time allotted (30 sec).
To Play: at "go" the student begins to hunt for the quarter notes while I play some exciting music on the piano. For each card that is found, the student should bring it to a central location (on the floor, in a basket, on the table, whatever you've chosen). So this becomes a back and forth kind of race against the clock. When time is up, stop playing. The student stops hunting and counts all of the quarter notes he has gathered. Take a moment to have him lift the front flaps up to reveal the dash and thus the number of pulses for each quarter.
Variation: Play again, but have student gather all the half notes. Then after play, allow the student to arrange his notes into rhythm patterns to clap and count/play and count on a given piano key.
As new rhythm values are introduced, I just keep adding new cards and having the student race to gather the newest value first. This helps them visually differentiate between all the different rhythm values.
Have fun.
Cecilly
Thanks again, Cecilly!
Please follow and like us: