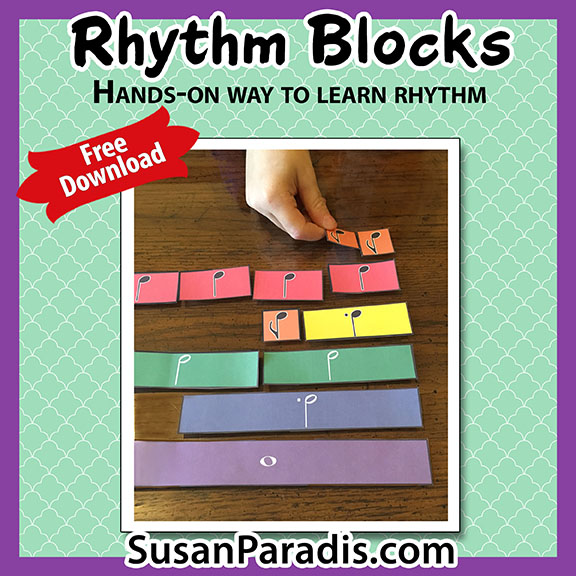 Using these rhythm cut-outs is a great hands-on way to teach rhythm. If students are confused about rhythm values, it could be that verbal explanations didn't work. How many times have we thought students understood a concept only to discover later that they were really confused but didn't want to tell you? I remember when I was a young piano student just nodding my head in agreement when I really had no idea what my teacher was talking about. I started parroting back her definition of time signatures because I was a good at memorizing. But I didn't understand what I was saying and I didn't want to admit I didn't get it. I liked her and I wanted to make her happy!
One of the first and most important rhythm concepts students have understand is that a note with a dot is equal to three of the of the next shorter note. That is the key to understanding dotted half notes and dotted quarters.  Theses rhythm shapes are great for that because they are proportional in size; so two eighths are the same size as one quarter.
Print this page on card stock and glue it to a sheet of thin craft foam before you cut them out. If you are crafty, even better is to glue the page to foam board (also called tag board), which will make them easier for students to move around but a lot hard to cut out!
I made this printable years ago, but today's post is updated to make the notes easier to read. Plus, I fixed a note that was orientated wrong. So if you have the old file, you can replace it with this one.
Another way to explain fractions is to use my Rhythm Pizza printable. It is a very helpful first step to teaching rhythm values. Then to teach counting dotted notes, use this helpful visual, Rhythm in the Grid.
I know you can come up with many ideas for students to learn with these!
Please follow and like us: