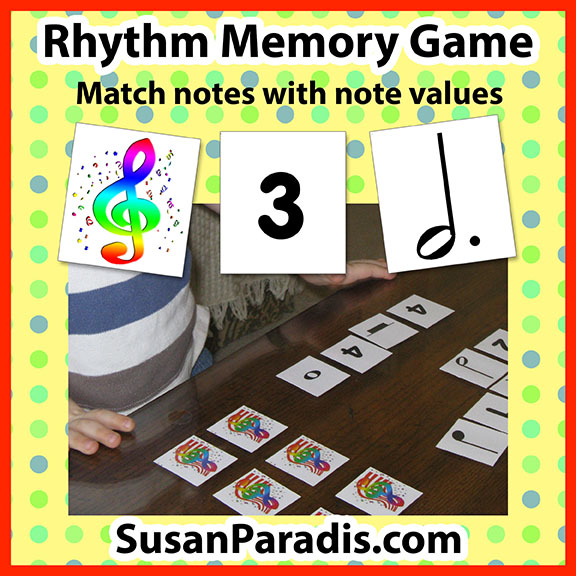 I am back from the TMTA convention and I have a lot of new ideas and music reviews to post. I'll try to do that as I have time, but let me just say that I am very excited about some of new music I heard as well as new ideas for composing and improvising with our students. The Texas convention is 4 days long and it is huge because we are such a big state.
I went to as many sessions as possible and one I went to was on teaching group lessons. Our presenter was Dr. Lesley Sisterhen McAllister and she had some great ideas for group lessons. Even if we teach private lessons, most of the teachers who read this blog also have groups at some point. One game she mentioned seemed like something my students would enjoy.  It is a memory game and she kindly gave me permission to post it here. I don't know if I made it exactly like she makes hers, but here is my version for beginning students who have at least learned the basic notes and rests. There are no 8th notes so it can be played with young students.
There are 3 pages in this file. The second page has the optional backs, and the third page has the grid I use to keep the cards in the correct space.  Using sturdy card stock, print one side; turn your paper over and print the other side.  You must use card stock, or students will be able to see through the cards. Laminate,  and cut on the dotted lines. Some teachers have glued it to foam board so the students can use it better.
In case you do not know how to play Memory, here are the directions. Arrange the cards with the notes and numbers face down in a 4 X 4 grid. The object of the game is to match a note to its rhythm value in 4-4 meter. The first player turns over two cards. If the note and rhythm match he keeps the cards and plays again. If not, it is the other person's turn. Play continues until all the cards are gone. The winner is the player with the most cards.
Young children need help learning how to play this. They have trouble putting the cards that don't match exactly back where they found them so that the next person knows where the matches are. This is why the grid (3rd page in this file) is really helpful.
I often play this at a private lesson,  with the student either playing the game with me.  Personally I'm not very good with this type of  game and the students can beat me!  This is a good game to check if they are learning their note values.
Please follow and like us: