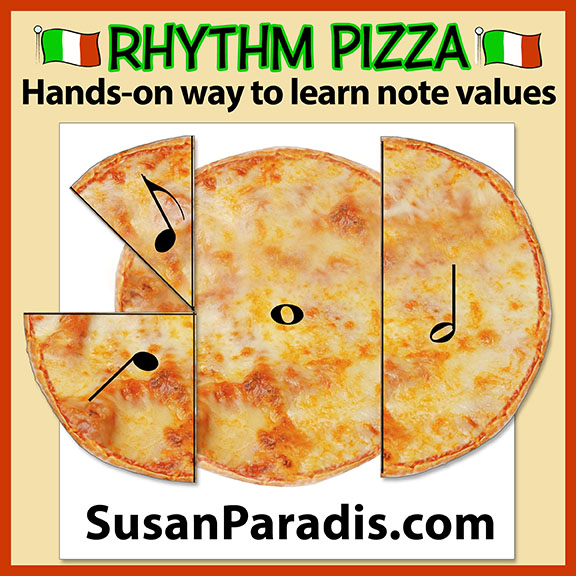 Today I decided to put my 4 pages of Rhythm Pizza on foam board. Since that has been one of the most downloaded pages, I thought I'd share my attempts.
My young students love to sit and work this puzzle while they wait for their lesson or for their parents to pick them up. But it was not holding up very well. I could have just printed out another copy, but I decided to make it easier to play with.
I glued the pages to foam board and then tried to cut them out. (I left the whole note page letter size so it would be bigger.) I found that circles are very hard to cut out of foam board. About half way through I thought no matter how much I had to pay, it was better to buy teacher materials than to print them out for free. I broke my husband's Exacto knife, tried other knives, and finished up with a box cutter. I found the straight lines a lot easier, and when I saw the results I thought it was worth it.  You can see in the picture how much more fun it will be for student to play with use it.
By the way, the rhythm pizza really works to explain fractions to children who haven't learned them in school yet.
UPDATE: Putting this on foam board is one of my best ideas. My students loved it and played with it a lot more. If you like Rhythm Pizza, I highly recommend you try putting it on foam board. It has been suggested to cut the circles with kitchen shears. Let us know if this works for you!
Please follow and like us: