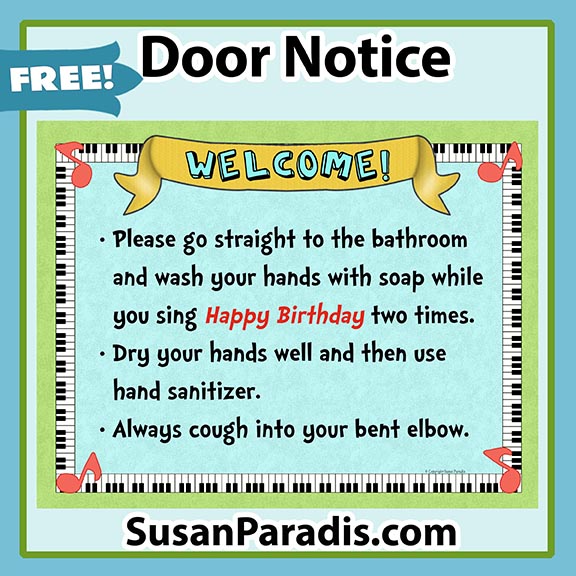 Scroll Down for this Free Poster
Today I am posting a safety notice for private lesson teachers to remind students to wash their hands before lessons. With COVID-19 in more communities now, this is very important for music teachers. This poster is made to post on your door or wall so students can see it right away. It will remind students to go straight to the bathroom, wash their hands, and put on hand sanitizer. Most school children know to cough into their elbow nowadays, but it never hurts to remind them. [Edited to fix typo in the PDF of this poster.]
I know many of us are doing online piano lessons, but if you have students in and out of your home or studio, I hope this poster is helpful.
Speaking of online lessons, I have participated many of those over the years and I know many of you have, too.  I've used Skype, Google Hangouts, and Facetime. Of those three, I've consistently found that Facetime has the best quality because there is no audio lag time when I use it. That might be different if my students didn't have a fast wi-fi connection. My next choice is Google Hangouts, and there is a lag, but you can get used to it. Skype also has a lag when I use it.
The only problem with Facetime is that parents need to have an iPhone or iPad. One student told me he couldn't use Facetime because his family did not have iPhones and used Android phones. I mentioned it to his Mom and she said they had an iPad. I forgot that young students are very literal, so be sure you ask about all the devices they have. Also, there is an app in Google Play called Google Duo that is like Facetime and highly rated, so that might work for you. Many folks use "skype" as a generic term, so it important to mention all the options available for online lessons.
If you have students attending lessons, this is a really good time to revise your make up policy to be more lenient so parents won't be tempted to send slightly sick children to lessons.
If you have suggestions that work in your studio for safety and/or online lessons, please leave a comment. Your suggestions will help everyone in this difficult situation.
Please follow and like us: